Aggarwal speaks
In a lid off interview, Deepak Aggarwal, the alleged Indian bookie responsible for the downfall of Shakib Al Hasan, reveals heretofore unknown information about the recent corruption scandal that shook the cricketing world.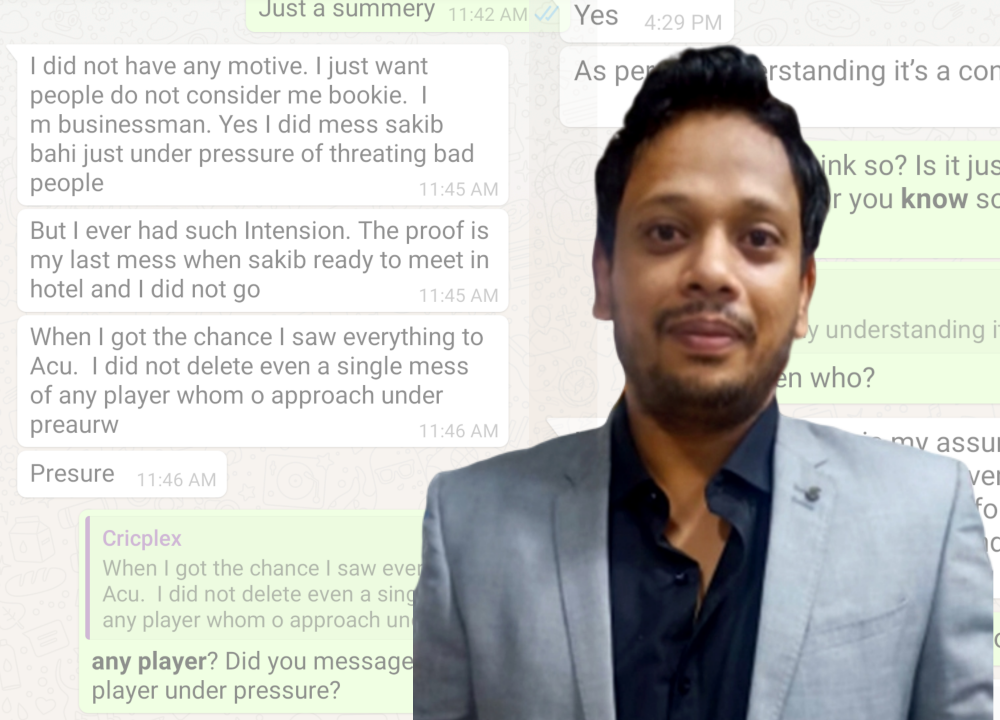 For someone with his notoriety, it was surprisingly easy to reach out to Deepak Aggarwal, the alleged bookie who just brought down one of the most-celebrated titans of world cricket, Shakib Al Hasan. Here was a man, who according to a recent Times of India story was "known in the spot-fixing circuit", and had been arrested in April 2017 for gambling offences. Yet, his digital footprint was everywhere on the Internet — from listed phone numbers to open domain registration records. And then there was his photo displayed on the website of the cricket academy he owns. It was as if he was waiting to be contacted.
And, for someone supposedly with a long experience in the dark alleys of cricket crookery, he was curiously too quick to own up to almost all the charges against him — that too, in the very first encounter. "Yes, it is true," Deepak Aggarwal told me when I asked him about his role in the Shakib scandal. "Just one thing is not true — I am not a bookie."
A few weeks ago, sending shockwaves across the cricketing world and upsetting millions of his ardent fans, Shakib Al Hasan was banned by the Anti-Corruption Unit (ACU) of the International Cricket Council (ICC) for a period of two years with one year suspended. The crime the cricket maestro was accused of is considered heinous in sports: contact with a bookie and not reporting it to the authorities. The alleged bookie was described by the ICC's anti-corruption watchdog as "an individual known to the ACU and suspected of involvement in corruption in cricket."
In our lengthy conversations, first via Twitter (DM) then WhatsApp, which took place over a course of four weeks, Aggarwal had a curious yet familiar defense that he was acting under duress, "When they came to know about my good relations with players, they [pressured me into seeking] inside information from them." Who are they? He would not reveal to me their real identities but refer to a group of powerful bookies who "threatened me for life." While he would not name these people or details as to how he was coerced, a recent Indian Express story cited an anonymous source to report that he was working "for a Gwalior-based bookie".
"I know only one of them, whose name I gave to ACU," Aggarwal told me, adding that it was him, not Shakib Al Hasan, who actively cooperated in the ACU investigation by becoming a witness. As wild as it may sound, the claim that he helped the ICC investigate Shakib makes sense in many ways.
Aggarwal told me he provided the ACU with the prime piece of evidence against Shakib: incriminating WhatsApp chat logs. While he did not offer me any corroborating evidence, citing a still ongoing investigation, the messaging application's end-to-end encryption means only the sender and the recipient — Aggarwal and Shakib, in this case — had plausible access to it. If Shakib Al Hasan himself did not hand over the incriminating chat logs to the ACU, then Deepak Aggarwal's claim is plausible. He also added that the ACU itself noted the fact that he was already "known" to them. Furthermore, to prove that he was in touch with the ACU in somewhat amicable terms, he showed me a WhatsApp conversation, purportedly with Alex Marshall, the ACU chief. In this chat, Marshall was advising Aggarwal to switch his phone number temporarily to avoid being bombarded with unusual phone calls.
Throughout our conversation, Aggarwal kept indicating that he was not a crook but someone who was the victim of powerful players calling the shots from behind the curtain. When he finally decided not to be coerced anymore, he opted to become a whistleblower and alerted the ACU about his own corrupt approaches to Shakib Al Hasan.
While talking to Deepak Aggarwal, I did sense an eagerness in him to come clean about his role in the corruption scandal. In the process he did reveal some explosive information heretofore unknown. He told me Shakib Al Hasan, at least on one occasion, shared his hotel address with him to set up a meeting in Dubai. He also revealed the identity of the person, a former bowling coach of the Bangladesh team, who gave him Shakib Al Hasan's contact details and who himself is now under investigation by the ACU.
[Shakib Al Hasan was offered a right of reply in this story, and specific questions were sent to him via his agent. He declined to comment on the events and claims described here, citing the ongoing ban against him. Responding to an email query with specific questions for the ACU and its chief, an ICC spokesperson told Netra News, "we are unable to comment on potential or ongoing investigations."]
In trying to verify and match each of Aggarwal's claims, I kept walking deeper into the high-voltage field of cricket and crookery. My initial plan was to conduct a brief interview with my interlocutor, sort of like a short-format cricket match that can be summarised in a few hundred words — it was only when I reached the end of the game, I realised we have played a test match.
🏏
In sports, inside information refers to exclusive information about a team or any player of a team (such as who might or might not play in the final squad) — a piece of information which can be useful for betting.
Cricket betting has a huge market in India, according to a BBC report, with estimates of its size varying from $40 billion to $150 billion. The sheer size of this illegal market means it is dominated by underworld kingpins, with many previous investigations pointing fingers at the notorious Dubai-based mafia organisation D-Company.
And, as it happens, Deepak Aggarwal has strong Indian and UAE connections.
On the surface, he is an entrepreneur. According to a filing at the Indian Ministry of Corporate Affairs, he is the director of a Delhi-based IT outsourcing firm, Aannya Software Private Limited, since 2012. He also owns CricPlex, a cricket management company that operates a cricket academy in Noida, Uttar Pradesh and a cricketing website.
Below the surface, however, he has a heavier portfolio. In 2018, Aggarwal co-owned Sindhis, a franchise that participated in the second season of the T10 League in Abu Dhabi, UAE. The league features top-rated international players, while the franchises hire Bollywood stars as brand ambassadors. Sindhis, which had the Australian all-rounder Shane Watson as its icon player, participated only once in the tournament before being revamped as Deccan Gladiators, which became the runner-up in the recently concluded third season of the league.
The current owner of Deccan Gladiators is Gaurav Grover, a self-described "IT tycoon" whose businesses involve, among other things, cryptocurrency operations. Deepak Aggarwal claimed they (he and Grover) had been family friends and business partners, and "worked together in cryptocurrency" as well as other businesses.
Aggarwal's familiarity with cryptocurrency is of course noteworthy because, according to the ACU, he had offered to pay bribes to Shakib Al Hasan in Bitcoin, the principal cryptocurrency currently in circulation. Cryptocurrency (often shortened as crypto) is a digital currency that is exchanged on peer-to-peer networks without the oversight of a central bank. The very nature of the cryptocurrency means that transactions are untraceable and non-interceptable — that is why crypto is now the popular platform for illegal money movements including bribery, money laundering, tax evasion, and sports betting.
Deepak Aggarwal's affiliation with Deccan Gladiators, however, was played down by Gaurav Grover, who told the Hindustan Times that Aggarwal and CricPlex did not have any role in Deccan Gladiators. The chairman of the T10 League, Shaji ul Mulk, who originally sold the franchise, claimed Aggarwal had "absolutely nothing to do with" the team or the league. However, domain registration records show that the official website of Deccan Gladiators was purchased using a CricPlex email address, suggesting a significant level of partnership.
Also, a recap of a match between Sindhis and Pakhtoons, still available on the T10 League's YouTube channel, shows that Grover and Aggarwal were present together at the award-giving ceremony. Grover handed over the "Maximum Sixes in the Match" prize, while Aggarwal handed over the "Stylish Player of the Match" prize, as the anchor Danny Morrison called them by their names. It is very common that owners or senior management figures of a team are entrusted with such prize-giving tasks during the award-giving ceremony.
When I contacted a former senior official of the league who was directly involved during the second season, they agreed to share some details with me provided that their name is not made public, as it could adversely affect their professional life. "The team was originally [called] Karachians. When it was forced to be renamed as Sindhis, as per a Pakistani court ruling, the [original] owners lost interest and handed it over to the league management," the former official told me. "The team was supposed to be there only for that season. But [then] Shaji [ul Mulk] found these two, Deepak and Gaurav, halfway through the season. They were willing to buy the team jointly. As per the rules, Shaji sent their names to the ICC, but they only cleared Gaurav, not Deepak. So, although Deepak was probably not an official owner, he surely had some sort of arrangement with Gaurav."
Grover did not did not respond to my queries. Deccan Gladiator's PR agency informed me that "[Grover] will not be available to comment on any CricPlex related subjects."
For the former official, both Deepak Aggarwal and Gaurav Grover were "shady characters" who bought the team for $1.3 million. Grover only came into the limelight after his acquisition of the team. Details about him and his business operations are also not available on the public domain. His recent interview with The National newspaper in the UAE, published after I sent him a set of questions, also did not reveal much about him.
When asked for his comments, Shaji ul Mulk told me, "Deepak Aggarwal is not an owner of any team in T10 and never was. He has made a wrong claim that he co-owned Sindhis or any other team in T10." Mulk, however, did not directly deny that he sent Aggarwal and Grover's names to the ICC for clearance as potential owners, "All other information from any official is irrelevant and misleading."
As for the presence of Aggarwal at the award-giving ceremony, Mulk put the blame on the team owner, "That is for Mr. Grover to answer. We have no restrictions on guests, sponsors or officials that a team owner may invite for the awards."
He also added that the T10 League closely cooperated with the ACU, and adopted a "zero tolerance" policy of ejecting anyone found involved in illicit activities.
Despite this assertion, the T10 League was marred in controversies including allegations of corruption since its inception. The very nature of the league's format, arguably, makes it susceptible to risks of match-fixing. An Al Jazeera documentary broadcast in May 2018, Cricket's Match Fixers, showed how such short-format cricket tournaments were planned with the sole intention of fixing.
Salman Iqbal, the former president of the T10 League, who stepped down from the position citing "lack of transparency" and "proper systems and monitoring", told me that the league was extremely ill-prepared to address these concerns. "I resigned before the second season so I don't know much about the team you [want to know about]. But look, Deccan Gladiators [or formerly Sindhis] was sold by the league management to the owners — and, now, it's in the final," he told me, laughing suggestively.
This May, two Sri Lankan players were suspended by the ICC on "charges of indulging in
corruption" in the tournament. Ashfaq Ali Thara, a co-owner of the 2017 champion Kerala Knights, was arrested in September this year, for allegedly "placing bets with a bookmaker outside India, as well as a possible role in fixing matches." Then in October, Mohammed Naveed — a Kerala Knights player and the UAE team captain — was provisionally suspended for, among other charges, breaching two clauses of the UAE Cricket Board Code for the T10 League. One of the breaches involved "failing to disclose to the ACU full details of any approaches or invitations received to engage in conduct that would amount to corrupt conduct under the Code."
Shakib Al Hasan, interestingly, played for Kerala Knights in the first season of the T10 League in 2017. And, in September 2018, it was in Dubai that Shakib and Aggarwal were supposed to meet.
In a screenshot of a WhatsApp conversation Aggarwal showed me, he could be seen proposing a meeting, to which Shakib purportedly responded by sharing his hotel address in Dubai Festival City (DFC). Aggarwal claimed that this specific portion of the WhatsApp conversations was among those that the ACU said Shakib deleted from his end.
A report in the Daily Star from that period, covering the Asia Cup, indeed confirms that the Bangladesh team, including Shakib, was staying at the Dubai Intercontinental Hotel in DFC, ahead of a match against Sri Lanka. While trying to verify Aggarwal's claim, I was also able to obtain photos and social media posts showing Shakib in the DFC area in September 2018.
To argue that he ultimately was the proverbial good guy, Aggarwal repeatedly invoked his supposed decision to not meet Shakib, despite the all-rounder's apparent interest. Unlike Shakib, "I deleted not a single message, nor did I change my phone number," he said.
🏏
Notwithstanding the denial by Gaurav Grover and Shaji ul Mulk, Aggarwal's involvement with Sindhis means that his apparent notoriety as a bookie painfully collides with his ambition to become a franchise owner. This explains why he needed to come clean in his conversations with a journalist like me. What it does not explain, however, is his curious decision to go to the ACU in the first place, whereas he could have stayed silent.
"I got myself blacklisted by the ACU," he told me, so that the "bad guys" find him worthless.
"Deepak Aggarwal was immensely happy to have himself banned and blacklisted by the ICC, thinking that his dream of having his team can wait for some time," reads an article published by CricPlex.
On November 26th 2018, two days after he appeared at the award-giving ceremony of the Sindhis vs. Pakhtoons match, Aggarwal was banned and blacklisted by the ACU. He did not have to suffer any approaches by the "bad guys" ever since.
This bit of safety came with a heavy price for Aggarwal. In 2018, he envisioned an international T20 league of his own. It was for this tournament that he had sought the phone numbers of Shakib Al Hasan and other Bangladesh Premier League (BPL) players, "It was an honest and professional endeavor." However, the rapport and relations he developed with players and coaches while trying to organise the tournament attracted attention from real bookies and cricket crooks, he claimed.
The name of the individual who supplied Aggarwal with contact details of Bangladeshi players was not revealed by the ACU, triggering suspicion and rumours in Bangladesh. But, Aggarwal told me that the individual was none other than Heath Streak — the Zimbabwean cricket legend and Bangladesh's former bowling coach — before hastily adding that Streak had acted in good faith, "Heath did nothing wrong. Not even his intention was wrong. He gave me the numbers just to contact the players for the T20 series."
I was able to obtain additional confirmation of this claim that Heath Streak was indeed the person who provided Aggarwal with contact details of Shakib Al Hasan and other players.
However, in another plot twist, ostensibly acting under some duress, Aggarwal eventually approached Heath Streak for inside information as well, "When bad people came to know about my relations with Heath, they forced me to ask him." The former Zimbabwean captain rejected the offer and implored him to stay out of spot-fixing. "He always tried to make me understand to not go in that direction," Aggarwal said. "But, I did not tell him back then that I was under pressure."
Although Heath Streak did not accept the offer, he made the same mistake as Shakib Al Hasan of not alerting the ACU. And now, after Aggarwal's tell-all disclosures to the anti-corruption watchdog, Bangladesh's former bowling coach is also under investigation.
When I reached out to Streak to verify the claim, that he is under ACU investigation, he did not respond.
Not everyone violated the ACU rules though. Aggarwal approached Sikandar Raja, a former Zimbabwean cricketer, who dutifully informed the ACU and avoided punishment. Aggarwal further helped the ACU investigate two UAE cricketers leading to their banning.
There are also Bangladeshi media reports about Deepak Aggarwal's approaches to Tamim Iqbal, another Bangladeshi star cricketer. Earlier this year, the Bangladeshi opener was questioned by an ACU team that was investigating Shakib's case. Tamim reportedly told the investigators that he had informed the Bangladesh Cricket Board's (BCB) anti-corruption unit about the approaches.
Aggarwal told me he indeed approached Tamim Iqbal but not for any illicit information, "I just asked him professionally about the T20 offer." He also said he did not approach any BCB officials as part of his bid to bait and woo Shakib Al Hasan, and added, "I don't know if any of the BCB officials knew anything about this."
Meanwhile, as Aggarwal was blacklisted, his planned tournament — named CricPlex Premier League (CPPL) — never went through. According to his own account and a Hindustan Times story, the ill-fated league was foiled by the anti-corruption unit of the Board of Control for Cricket in India (BCCI), "Someone from the BCCI called one of my employees [and asked us] to stop. So I stopped the preparations for the league."
Ajit Singh, the chief of the anti-corruption division of the BCCI, disputed both the Hindustan Times report and Aggarwal's version of the story. "Aggarwal did not seek permission for the league," Singh told me. And neither did the BCCI ask him to stop.
Singh earlier told BBC Bangla that Aggarwal was more of a "person of interest" than "a blacklisted individual". He reiterated this position when I contacted him, saying that his department did not have any evidence that suggested Aggarwal was a bookie, "If we had any evidence, we would have taken action."
After the Shakib Al Hasan story broke, the Times of India, among other news outlets, suggested that the 2011 suicide of a young player in Udaipur, Rajastan was linked to a bookie named Deepak [Aggarwal]. The original 2011 story by the newspaper, however, quoted a police officer, Tejraj Singh, who called the bookie, "Deepak Agrawal".
Aggarwal categorically denied that he was the individual accused of having been responsible for the suicide in Udaipur. On October 31st 2019, he filed a criminal complaint with Delhi Police against the police officer Tejraj Singh and the Editor of News 18 TV channel for defamation. He shared a copy of the complaint with me.
Tejraj Singh, who is currently the commandant of the Rajasthan State Disaster Response Force (SDRF), told one of my collaborators in India that he did not recall details of the case, since it was eight years ago, and referred the matter to the Udaipur police.
Kailash Chandra Bishnoi, Superintendent of Police in Udaipur, informed me: "Deepak [Agrawal] was a local bookie and known as Chotu. He was arrested based on the young cricketer's suicide note. Since he was chargesheeted, the case details went to the court and its current status is not available to me."
🏏
While immensely successful as a professional cricketer, Shakib Al Hasan did not enjoy unanimous support of Bangladeshi fans for a long time, thanks to his seemingly brash behaviour outside the field. That changed after the 2019 ICC World Cup, as he scored 606 runs in 8 matches with a whopping score rate of 96.03, that was bolstered by 2 centuries and 5 half-centuries — a remarkable feat for any batsman. He was only behind Rohit Sharma of India and David Warner of Australia by less than 50 runs in the tally of top scorers. As Bangladesh team's left-arm spinner, he also picked up 11 wickets, with a 5-wicket haul, becoming the only cricketer in history to have scored 1000 runs and taken 30 wickets in world cup games.
Thus, in Bangladesh, the announcement of Shakib Al Hasan's punishment triggered very strong and colourful reactions from his fans, who initially accused the Samakal newspaper, who first broke the story, of doing the BCB's bidding, as Shakib had just recently led an unprecedented revolt of professional cricketers over salaries and benefits.
Aside from the usual solidarity with the national hero, one of the reasons why many thought the punishment meted out to Shakib was too harsh was the assumption that he rejected Aggarwal's offer. The ACU itself is vague on this point as it does not say that he rejected or dismissed the offer made by Aggarwal, but that "he did not accept or act upon" the approaches. Aggarwal too told me that Shakib never rejected his offer outright, nor did he accept or act upon the approaches.
According to the ACU, at a certain point in their conversation, when Aggarwal wanted to discuss monetary issues such as dollar account and Bitcoin wallet, supposedly as a means of paying bribes, Shakib wanted to meet Aggarwal first. This is the part of the conversation Aggarwal showed me that established that Shakib, at least on one occasion, provided Aggarwal with his hotel address in Dubai, in response to an offer for a meeting. I was able to match and verify the fact that, in September 2018, Shakib indeed was in Dubai to play in the Asia Cup.
"He wanted to meet me to assess how trustworthy I am," Aggarwal told me, adding that it was he who chose not to meet Shakib in the end. He underlined this to bolster his claim that he ultimately did not have any corrupt intent. A tough-sell given that it was he who admitted to being a conduit of powerful bookies in the first place.
Shakib Al Hasan is not only Bangladesh's biggest cricketing star but also the richest. He is the only Bangladeshi who has been regularly participating in the top-ranking T20 tournaments, including the Indian Premier League (IPL). Apart from the highly lucrative T20 cricket gigs, he also entered into numerous sponsorship deals with corporate brands like Grameenphone, Huawei, Uber and Yamaha.
On top of that, he has his own businesses, including a restaurant in Mirpur, Dhaka named Shakib's 75. More recently, he added another feather to his cap — a vast crab-shrimp farm in Satkhira. In 2016, two years before Shakib engaged in conversations with Aggarwal, the cricketing website CricTracker estimated his net worth to be $35 million.
It is not clear why he would be tempted in talking to and meeting a person like Deepak Aggarwal. As Michael Vaugan, the former English captain, noted on Twitter, "In this era, the players get briefed all the time about what they can and can't do and what [they] have to report straight away." Shakib himself admitted to the ACU investigating team that he had been fully aware of his responsibilities under the ICC Code of Conduct. This makes the case more puzzling as to why he did not report the WhatsApp conversations when he "had the feeling that Aggarwal was a bookie."
On this point, Aggarwal told me that Shakib was indeed not very eager about the offer, "Neither he nor I forced it so much."
🏏
A day after Shakib Al Hasan's ban was announced by the ICC, BBC Bangla published a report headlined: "We only gave consent to ICC investigation against Shakib: BCCI". The report immediately sparked controversy in Bangladesh, with many suggesting that the Indian cricket board might have played a role in Shakib's banning before the Bangladesh team's first-ever India visit. "Why now?" was the question oft-repeated by Bangladeshi fans and journalists.
The Indian board's influence over the ICC is of course well-established, but, Akram Khan, the former Bangladeshi captain who is now working as a BCB official, told journalists that it was Shakib who requested the ICC to expedite the process of his punishment so that he could attend the next T20 World Cup.
When I contacted Ajit Singh, the Indian board's anti-corruption chief, he told me, "The investigation was done by ICC, consent was given by BCCI to ICC for the investigation."
I asked him why such consent from the BCCI was necessary for the ICC to proceed with an anti-corruption investigation. "Rules require it," he replied, without any elaboration. Here, one possible explanation for BCCI involvement could be the fact that Shakib was approached by Aggarwal for inside information during the 2018 season of the IPL, in which Shakib was playing for Sunrisers Hyderabad.
🏏
After the banning of Mohammad Ashraful in 2013, on spot-fixing charges, the corruption scandal centreing Shakib Al Hasan is the greatest upset in Bangladeshi cricket. The BCB president, Nazmul Hassan Papon, told journalists that he was as shocked as everyone else when the punishment was announced, as if it was wholly unexpected. There, however, were several indications that the board knew what was coming.
Indeed, when the Samakal newspaper first broke the story two days before the formal announcement by the ICC, it was almost entirely based on anonymous sources in the Bangladeshi board. The reporter of that story, Ali Sekandar, later said in an interview that the BCB president and other officials were informed of the decision by the ICC days before Shakib initiated the cricketers' agitation for better pay and benefits. Some subsequent comments by BCB officials were also indicative of the fact that they knew what was coming well in advance.
As irony would have it, just days before he got banished from the cricketing world, Shakib Al Hasan raised spot-fixing allegations in the domestic leagues and demanded that the problem be tackled. That conversation has now been buried after the cricketing titan himself was found guilty of talking to an alleged cricket crook and not reporting it to the appropriate authorities. He has also not said anything in public save a few brief comments expressing remorse during a press conference on October 29th 2019. Now that Deepak Aggarwal has come forward with his version of the story, will Shakib Al Hasan grant us the opportunity to hear his version?●
Nazmul Ahasan is an independent journalist.