Covid-19: Bangladesh in urgent need of personal protective equipment for hospitals
United Nations situation report notes quickly depleting stock of PPE and N95 masks.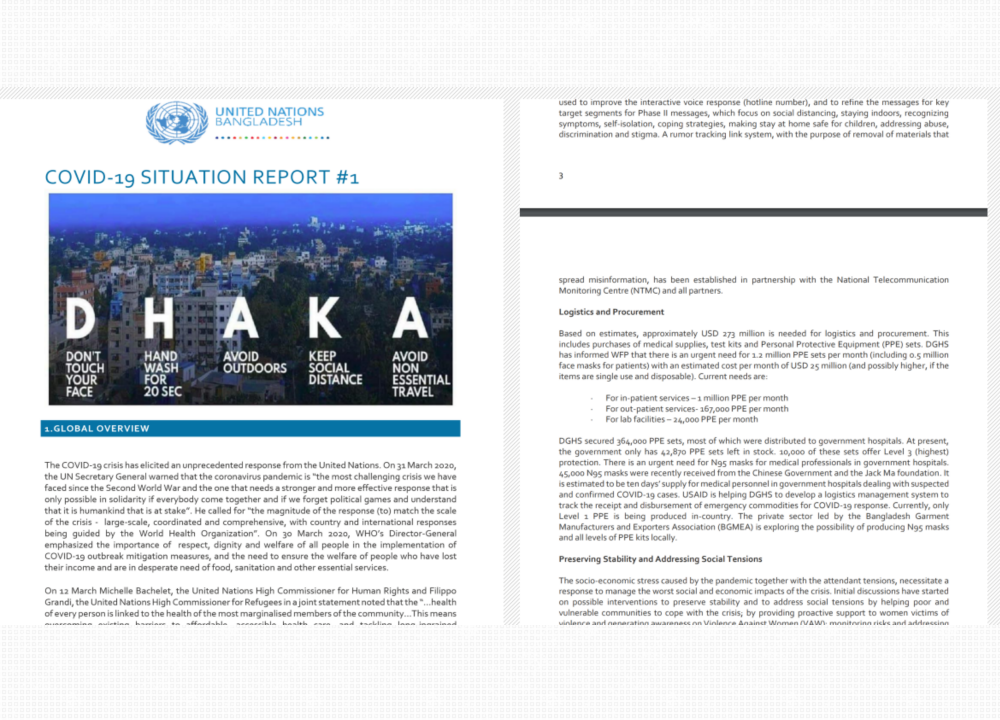 According to a United Nations situation report, health authorities in Bangladesh have informed their international partners about the urgent need for N95 face masks and personal protective equipment (PPE) for medical professionals dealing with suspected and confirmed Covid-19 patients in government hospitals. They estimated that 45,000 N95 masks received recently from the Chinese government and the Jack Ma Foundation would meet hospital supply requirements for only 10 days.
"[Directorate General of Health Services] has informed [World Food Programme] that there is an urgent need for 1.2 million PPE sets per month (including 0.5 million face masks for patients) with an estimated cost per month of USD 25 million", reads the United Nations document. "There is an urgent need for N95 masks for medical professionals in government hospitals."
The "Covid-19 situation report #1", the UN's first official situation report (sitrep) dealing with the unfolding Covid-19 epidemic in Bangladesh, was distributed to diplomats in Dhaka on April 5th. It summarises the health emergency response of the Bangladesh government in suppressing and mitigating the spread of the virus.
Under the section "Logistics and Procurement", the authors of the situation report discuss the quickly depleting stock of PPE and N95 masks, and estimate that "approximately USD 273 million is needed" for buying "medical supplies, test kits and [PPE] sets."
"DGHS secured 364,000 PPE sets, most of which were distributed to government hospitals. At present, the government only has 42,870 PPE sets left in stock. 10,000 of these sets offer Level 3 (highest) protection", reads the UN situation report. "45,000 N95 masks were recently received from the Chinese government and the Jack Ma foundation. It is estimated to be ten days' supply for medical personnel in government hospitals dealing with suspected and confirmed Covid-19 cases."
N95 masks are a respiratory protective device designed to achieve a very close facial fit and very efficient filtration of airborne particles, blocking 95% of very small (0.3 micron) particles. Level 3 PPE sets are fully encapsulated suits that offer the highest level of respiratory protection, though most of their elements are disposed of after a single use.
The UN situation report notes that only Level 1 PPE sets are currently being produced in Bangladesh, and the "private sector led by the Bangladesh Garment Manufacturers and Exporters (BGMEA) is exploring the possibility of producing N95 masks and all levels of PPE kits locally."
When Netra News contacted Shahnila Ferdousi, the director of the Centre for Disease Control at DGHS, for her comment on the UN situation report, we were asked to contact Abul Kalam Azad, the DGHS director general. Azad has not responded to repeated calls. We have also asked a World Health Organization spokesperson for their comment.●