In defence of Rupa Huq
Is Bangladesh a "rogue" state?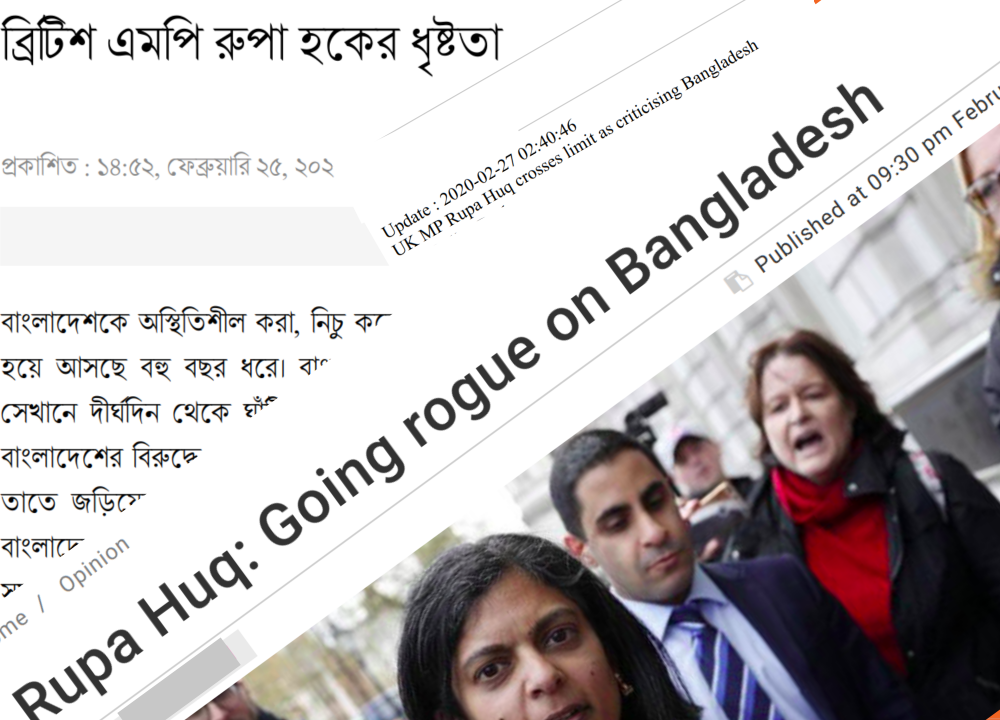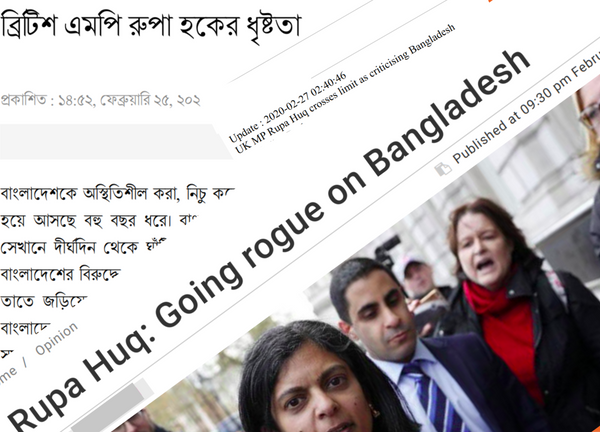 These days in Bangladesh, where journalism critical of the prime minister and the ruling party has become like Samizdat, there remains one kind of criticism that is published ubiquitously in the media: reports criticising government critics.
So it should therefore come as no surprise that the comments made by the British MP Rupa Huq at a meeting in London — where she called the Bangladesh government "rogue", "very draconian", and "authoritarian" — has resulted in quite a flurry of articles in Bangladesh newspapers attacking her.
None of these writers seem to appreciate the irony that while they themselves can criticise Huq quite freely in Bangladesh, Huq herself might well have been detained and jailed if she had said these things inside the country (and of course was not a British MP).
And that is the key to the problem with the responses to Huq — the authors' blindness to the abysmal state of human rights, democracy and governance in the country.
Huq's use of the word "rogue" to describe Bangladesh may not be to everyone's liking. It is a word that has most often been used by the United States government to describe countries whose foreign policy it claims are a risk to world peace, and Bangladesh is certainly not that. However, there is a strong case to argue that the Bangladesh government is indeed "rogue", if it is judged by its records on human rights, democracy and governance.
In terms of democracy, the Awami League remains in power as a result of an uncontested election in 2014 and of a systematically rigged one, five years later in 2018 (with a suborned election commission turning a blind eye). For a number of years now, the political opposition has barely been allowed to function, and been subject to widespread arrests and legal harassment. The judiciary can no longer be deemed independent with practically all the courts under the executive's thumb. Two years ago, the chief justice was removed from his post as he ruled against the government and indeed, just recently, a district judge was transferred from his post after refusing bail to a former ruling party member of parliament, and a junior judge, who was assigned to hear the case, granted bail hours later.
The media and freedom of expression on social media is highly restricted, with dozens of journalists and editors jailed. Recently, a man was arrested just for criticising on Facebook the visit to Bangladesh of Narendra Modi, the Indian prime minister. Self-censorship is finely tuned with editors and journalists fearing arrest or other forms of harassment. In recent years, extrajudicial killings average over one person killed a day. Disappearances and secret detention of critics, opposition activists and others are pervasive and have created a widespread climate of fear. There is near total impunity for those responsible, with politicians, including those at a senior level, often complicit in the killings and disappearances.
All these things make it reasonable to describe the current Awami League government as one which is "rogue" because of its deviation from democratic and human right norms — joining quite a long list of countries. Yet those who write critically of Rupa Huq fail to reference Awami League's record. Instead these writers at the very most allude vaguely to human rights concerns, often quickly moving onto argue that whatever the situation under the Awami League, the record is far better than it used to be under the BNP government.
There should be a clear consensus that under the BNP government between 2001 and 2006, governance and human rights were indeed very poor. Perhaps for a few years after the Awami League government was first elected in 2009, one could correctly argue that its record was better than the previous BNP government. But that simply is no longer tenable as an argument.
It may well have been the case that had the BNP been given a chance it would have rigged the general election in January 2007, but in the end that did not happen as the army stepped in. What we do know, however, is that the Awami league did systematically rig the election in 2018.
Yes, there were real concerns about independence of the judiciary under the BNP government but nothing at the level it is now. And media and freedom of expression were never as restricted then they are now. It is certainly the case that extrajudicial killings were common in the BNP period, but in the last two years under the current government extrajudicial killings are at an all-time high, at an average of over 420 per year. And very significantly, until the Awami League came to power in 2009, enforced disappearances and secret detentions — a tactic that has become embedded in the country's criminal justice system and has created a new sense of threat within the country — were not even human rights violations recorded in the country. The BNP was certainly slow to deal with militancy in the country, but in the end did so by arresting Bangla Bhai and other top militant leaders of Jamaat-ul-Mujahideen (JMB). Looking at the Holey Artisan café massacre and the killing of atheist bloggers, it is difficult to know whose record on militancy was actually better.
Eleven years into Awami League rule, no one should accept the argument that democracy, governance and human rights were worse under the BNP. They are far worse now on all these counts. Of course, the situation in Bangladesh could be even more repressive and there are many other countries with worse democracy and human rights situation than Bangladesh. Nonetheless, the term "rogue" to describe the current scenario in Bangladesh is an apt description.●
David Bergman (@TheDavidBergman) — a journalist based in Britain — is Editor, English of Netra News.