Medical Board: Khaleda in "crippled state"
The Appellate Division of the Bangladesh Supreme Court refused bail after receiving a medical board report referring to Khaleda's serious health condition.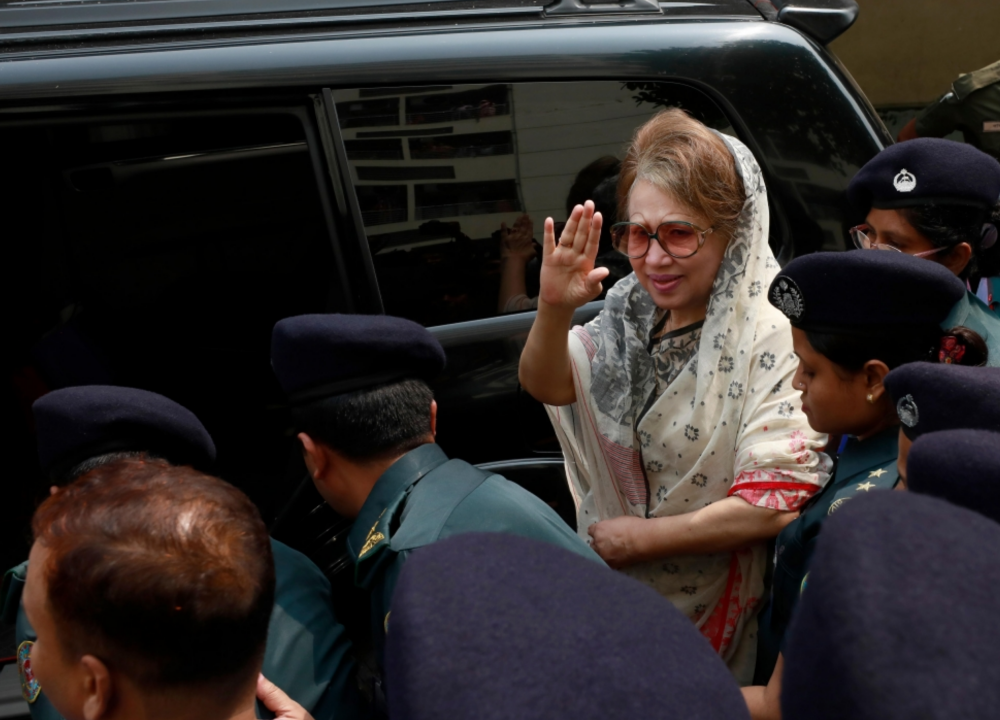 The imprisoned BNP leader and former prime minister of Bangladesh, Khaleda Zia, is in a "crippled state" and "largely dependent on assistance for her day-to-day activities", a medical board told the Appellate Division of the Bangladesh Supreme Court (SC). The medical board's report, a copy of which has been obtained by Netra News, was sent to the registrar general of the court by the vice chancellor of the Bangabandhu Sheikh Mujib Medical University (BSMMU) hospital on December 11th 2019. The next day, on December 12th, the Appellate Division rejected a bail petition by Khaleda Zia, which her counsels filed citing her poor health.

The BSMMU report states that the seven-member medical board, headed by Professor Zilan Miah Sarker, examined the septuagenarian Khaleda Zia on December 10th and found that her "[rheumatoid arthritis] is highly active with advanced deformities and marked functional decline."
"Mrs. Zia's rheumatoid arthritis is highly active and has caused damage to multiple joints. Both knees have been replaced earlier. As a result of combined active disease and accompanied damage she is, at present, at a crippled state and largely dependent on assistance for her day-to-day activities," the report reads.
The report, signed by four members of the medical board, notes that: "In case of Mrs. Zia the first line of conventional therapy has failed to induce remission. […] So far, the quality of treatment for rheumatoid arthritis has remained poor. She needs advanced therapies. She has been adequately informed on the prospects, costs and limitations including adverse effects of the advanced therapies. The medical board has offered her advanced therapy in the form of biologics following the recommendation of international bodies and is ready to start it remaining fully aware of prevailing limitations."
The medical board does not explain what it means by "prevailing limitations".
The report also notes that Khaleda Zia's diabetes "needs further control" and that her blood pressure and asthma are "well controlled".
The report by the medical board contradicts public comments by the BSMMU authorities that previously sought to downplay problems with Khaleda's ill health. In October 2019, BSMMU held a press briefing where Professor Sarker said that there had been no deterioration in her health condition and that, "Her treatment has been going well. She is fine, and is satisfied with her treatment." At the briefing, BSMMU director Brigadier General Dr. AK Mahbubul Hoque said, "[World] class treatment is being provided to her [Khaleda Zia] at the moment. There is no chance of her condition deteriorating."
When Netra News asked Professor Zilan Miah Sarker for his comment, he responded, "I cannot give any information to any media because I am not a designated person to talk about Khaleda Zia's illness. The director of the hospital where she is under treatment can talk about it."
The BSMMU director did not agree to provide Netra News with an official comment over the phone.
The Awami League government has also downplayed Khaleda Zia's medical situation.
In early december, a week before the medical board convened, Prime Minister Sheikh Hasina mocked her arch-rival Khaleda Zia's need for assistance in prison, "In the jail, Khaleda Zia is getting the facilities that a king usually gets. She has a maidservant there. I never heard that any prisoner anywhere in the world gets a servant. These days people are struggling to find a servant, but Khaleda Zia got one in prison to aid her for a relaxed life."
On January 12th 2019, the information minister and Awami League leader Hasan Mahmud claimed that the BNP was politicising Khaleda's health and was "misleading the public" by "exaggerating how ill she is."
Khaleda Zia has been imprisoned since February 2019, as she was convicted on corruption charges involving the Zia Orphanage Trust. Expressing concern about her poor medical condition, the BNP has been calling for her to be given treatment outside Bangladesh.●
---
ℹ️ Recognising the exceptional circumstances and considering the immense level of public interest involved in this case, Netra News is releasing a redacted version of the report of the medical board on Khaleda Zia's health condition. The English version of this Netra News article shall be considered the original.