No confirmation about the arrest of Sheikh Hasina's son-in-law
Fake news of arrest spread by anti-government websites and pro-BNP accounts.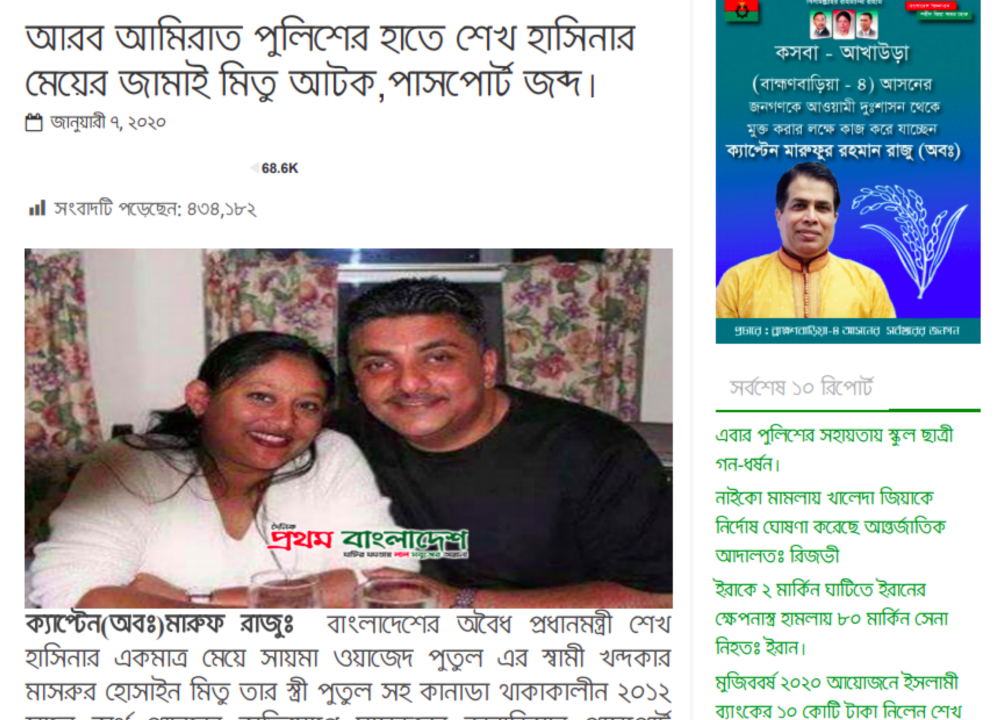 Netra News was requested by many of our readers to fact check a viral online article about the son-in-law of the Bangladeshi prime minister. The article was published by at least two anti-government websites and posted on Facebook by dozens of pro-opposition Bangladesh Nationalist Party accounts and pages.
The article claimed that Sheikh Hasina's son-in-law Khandakar Masrur "Mitu" Hossain, the husband of Saima "Putul" Wazed, had been arrested in the United Arab Emirates on money laundering charges, and that he was being detained at a police station in Sharjah. The article also included the name of a Dubai-based lawyer as the legal representative for Hossain. It also cited a source in Sharjah police and revealed the purported Swiss bank account number of Masrur "Mitu" Hossain, and referred to some irrelevant US and EU laws.
We asked a senior reporter of Gulf News to help us confirm this story. The reporter, Aghaddir Ali, spoke to the commander of the Sharjah police and the lawyer named in the article and informed Netra News, "I checked with the Sharjah Police Commander in Chief. No one [with] this name at [any] police stations in Sharjah, [nor in the] money laundering section. [The] lawyer['s] office [also] responded that they don't have this case."
According to international banking databases consulted by Netra News fact-checkers, the "Swiss bank account number" noted in the viral article does not match the bank account number format in Switzerland.
VERDICT: Netra News could not find any confirmation of the reported arrest of Khandakar Masrur "Mitu" Hossain in the UAE on money laundering charges.●