Bangladeshi cinema: Rise, decline and global
As Bangladesh reaches 50, its cinema is finally moving onto a global stage.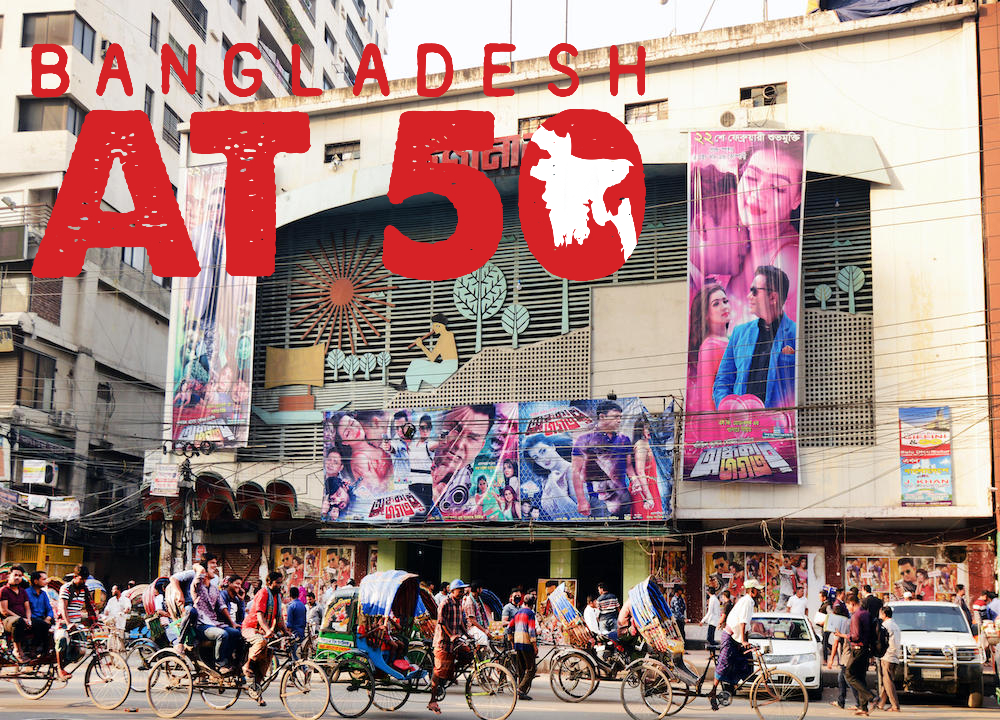 Bangladesh has both a substantial film culture and a modest film industry established in the middle of the 1950s. The industry finances were sound in the late 1960s and 1970s but started declining in the 1980s and 1990s. In the new millennium, the industry declined even further, but there have been some recent signs that the industry is reviving with a major contribution from the independent sector.
1970s: A vibrant industry
Immediately after the country's independence in 1971, a new class of producers emerged. Some people suddenly became rich in this new disorganised country and started to invest in the film industry. Some saw it as a way to transform their black money into white, while others saw cinema as a means to make a lot of money in a short period of time. Because of the nature of the invested money, some negative elements entered into the industry — with plagiarised storylines one of them.
During this period, cinema arrived as the main entertainment medium for the new nation. The industry was vibrant and the business was good. The Pakistan government had stopped importing Indian films after the 1965 war and after independence, the government of Bangladesh stopped importing all South Asian films, including both Indian and Pakistani films. Only Bangla films were exhibiting in theatres with hastily made films sufficient to fulfill the public demand.
The industry was however flawed. Alamgir Kabir in his 1979 book, Film in Bangladesh, divided the films made in the1970s into four categories: war films, plagiarised films, non-plagiarised films and off-beat films. According to him, between independence and January 31st 1977, 163 films were released. Among them were 5 war films, 8 off-beat films, 25 non-plagiarised original screenplay films and 125 plagiarised films. The viewers of Bangladesh mercilessly rejected off-beat and plagiarised films, yet they continued to be made due to the lack of writing talent and the desire to make money with minimum effort. Some directors were inspired by others who did make money through plagiarised films, such as Dost Dushman (1977) by Dewan Nazrul which was plagiarised from the Indian blockbuster hit film, Sholay (1975).
Some films based on the Liberation War were made immediately after the war. Among these Ora Egaro Jon (1972) by Chashi Nazrul Islam was commercially successful. But it is very unfortunate that in most of these war films, directors used rape scenes for commercial purpose, sometimes as an essential component of the film — whether it be a quality film like Arunodoyer Agnishakkhi (1972) by Subhash Dutta or a more ordinary film like Bagha Bangali (1972) by Ananda.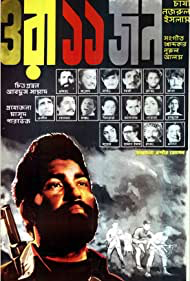 Alamgir Kabir (1979) labeled the non-plagiarised original films as "Camera Theatre", suggesting films must have its own language instead of being high toned stage drama. In some of these films, which were commercially successful as well, we can see the maturity of the directors. The lists include Abujh Mon (1972) by Kazi Jahir, Lathial (1975) by Narayan Ghosh Mita, Sujon Sokhi (1975) by Khan Ataur Rahman, Nolok (1978) by Shibli Sadik, Noyonmoni (1976) and Golapi Ekhon Traine (1978) by Amjad Hossain, Sareng Bou (1978) by Abdullah Al Mamun, Ashikkhito (1978) by Azizur Rahman.
Off-beat films — those containing unconventional storylines and cinematic styles — includes Ritwik Ghatak's Titas Ekti Nadir Naam (1973), Baby Islam's Choritrohin (1975), Rajen Tarafdar's Palongko (1976), Kabir Anwar's Suprobhat (1976), Alamgir Kabir's Dheere Bohe Meghna (1973), and Rupali Saikote (1979), Subhash Dutta's Dumurer Phool (1978) and Mosihuddin Shaker and Sheikh Niamat Ali's Surjo Dighal Bari (1979). Alamgir Kabir was a notable director in the 1970s, (as Zahir Raihan had been in the 1960s) who made socio-political films with innovative cinematic language.
In addition to those four categories of films "costume epics" and "action films" could be added. "Costume epics" so named because of the flamboyance of the dresses and settings, include Ibne Mizan (Nishan, 1977) and F. Kabir Chowdhury (Bulbul E Bagdad, 1979), the pioneers of this type of movie. Gangster based "action" films include Jahirul Haque's Rangbaj (1973), the first film of this genre, where the characters of hooligans and gangsters are applauded. The number of films of this genre increased in the next decade.
1980s: Ominous signs
In the 1980s the number of off-beat films decreased. Though some new directors started to make films, they did not stay long while existing filmmakers were less productive. A few off-beat films were made that included Syed Salahuddin Zaki's Ghuddi (1980). But original story based social films, on which an industry survives, suffered from lack of quality content. In this decade the only novelty in the making of non-plagiarised films was the trend of making films adapted from the novels of Sharat Chandra Chatterjee. Alamgir Kabir made Parineeta (1984), Chashi Nazrul Islam directed Devdas (1982) and Mohiuddin Faruq directed Biraj Bou (1988) among many others. Some more remarkable original story-based but conventional social genre's films were Azizur Rahman's Chhutir Ghanta (1980), Mohiuddin's Boro Bhalo Lok Chhilo (1982), Amjad Hossain's Dui Poysar Alta (1982), A J Mintu's Satya Mithya (1989) and so on.
In the late 1980s Beder Meye Josna (1989) directed by Tozammel Haque Bakul surprised the industry. It created a record of being the most commercially successful film in the history of Bangladesh and the record still persists. The success of Beder Meye Josna reminds one of the 1960's film Roopban. Both films are folklore-based opera stories, adapted from Jatra plays. In the 1960s, Roopban discouraged the industry from producing Urdu films and it also established the industry as a social institution. And in the 1980s, due to the advent of VCR and VCP, people started leaving cinemas and enjoying foreign films (largely Hindi and Bengali films from India) at home. In that context, Beder Meye Josna made viewers return to cinema halls, but unlike Roopban, it could not drive the industry to a new direction.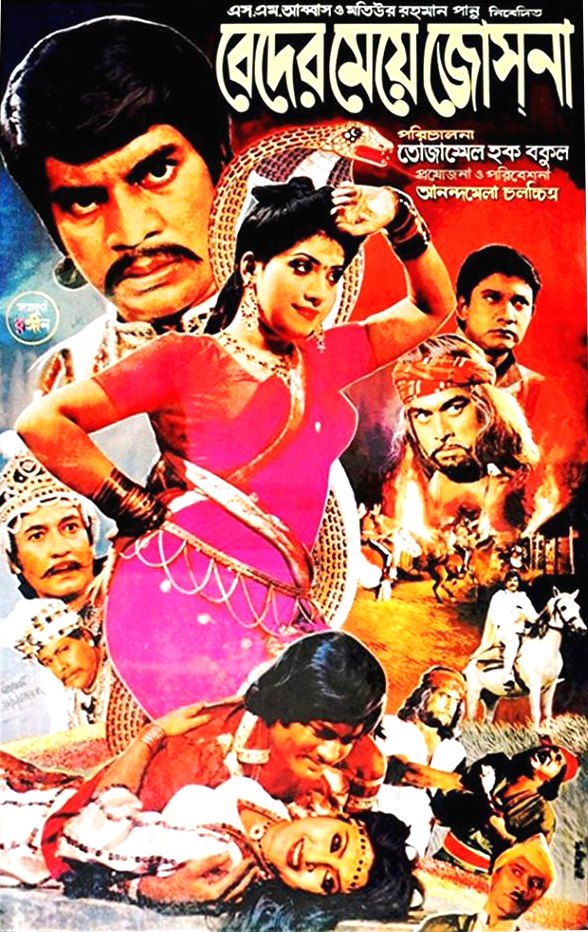 After the killing of the founder of the nation Sheikh Mujibur Rahman in 1975 in a military coup, the political trajectory of the country took a different direction, with basically right-wing military rulers governing the nation for one and half decades, until 1990. In the post-1975 era, right wing ideologies such as Islamist values were accommodated in the national policies, also having an impact on the cultural industry. The content of the films was often based on the stories from Arabian Nights and Arabic words were increasingly used in the titles of the films (Hoor-e-Arab, Bulbul-e-Bagdad, Saltanat and so on). It is to be noted that between 1976 to 1990, there were rarely any films made based on the stories of the Liberation War.
However, in the 1980s, the film society movement which began in the 1960s became more influential making films very different from the unrealistic costume epic, fantasy and action features. Some of the film society activists started making out-of-studio short films in 16 mm formats and distributed them through alternative channels. The first short film from a film society activist was Agami, made in 1984 by Morshedul Islam. Two months after the release of Agami, Tanvir Mokammel released his film Hooliya. Agami was a story of disillusionment where freedom fighters were in a distressed situation in the independent country and anti-Liberation forces had regained their strength, a very contemporary story for that time while Hooliya was the story of an outlawed political activist in the pre-Liberation War period. The audience appreciated these two new art-house films with political messages that they could relate to in contemporary Bangladesh. Agami and Hooliya were screened at almost the same time in different parts of the country. After this, an independent short film movement began and new directors started enthusiastically. Film society buffs started calling these films "alternative cinema" which in more recent times has become known as independent cinema.
The earlier ban on Indian films ensured the financial success of local films and the government earned a large amount of revenue through high entertainment tax. After the emergence of new viewing technology, of cable television, CD/DVDs and internet streaming, dedicated to small screens, in the 1990s the unprepared industry fell rather flat on its face as Indian and English films became more available and inexpensive.
1990s: Decline ensured
In the 1990s, the off-beat movies had decreased dramatically. The number of movies based on original storylines had come down nearly to zero. Kazi Hayat developed a formula of action films based on the conflict between angry gangsters and their godfathers (starring Manna and Dipjol), and other directors started following that template with an increase of violence and obscenity.
All the commercial achievements of this decade were influenced by Bollywood or India — whether it be the copyrighted Bollywood reproduction Qeyamat Theke Qeyamat (1993) by Sohanur Rahman Sohan, Basu Chatterjee's Hothat Brishti (1998), a reproduction of a South Indian film or the renaming of actors such as Salman Shah and Shakib Khan which is again an influence from Bollywood. Manna-starred extreme violent films were mostly copies of Indian films. The total reliance on the Indian cinema is indicative of the extreme inadequacy of the industry and was how in the 21st century the industry significantly declined.
In the 1990s, few moderately significant off-beat films were made by the industry that included a joint venture between India and Bangladesh, Padma Nadir Majhi (1993) by Goutam Ghosh, the independent director Morshedul Islam's adolescent-centered film Dipu Number Two (1996) and the cyclone-centric film Dukhai (1997).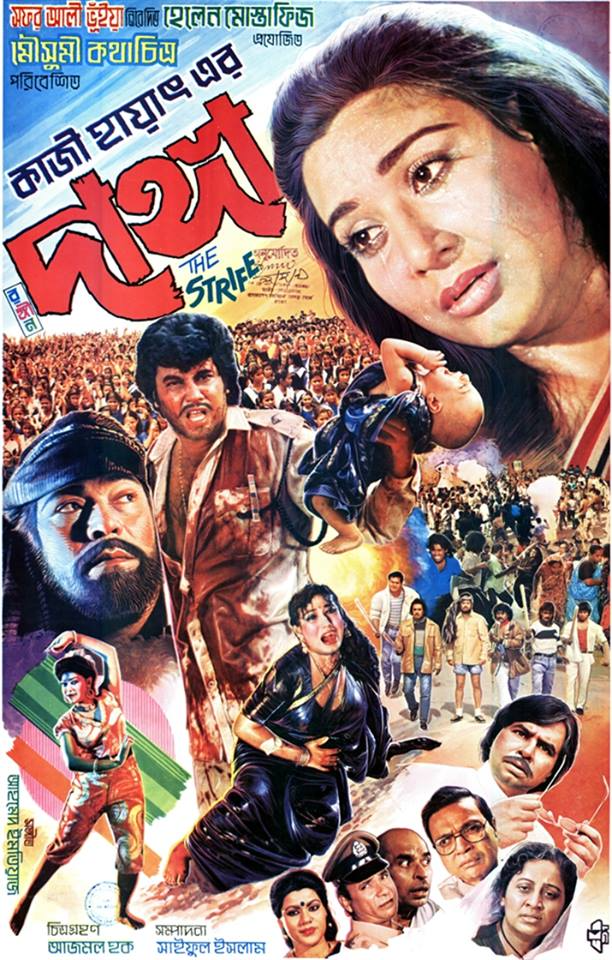 New millennium: An era of darkness
The mainstream film production between 2000 to 2005 can be described as a dark phase in the history of Bangladeshi cinema. Low budget ultra-violent films with pornographic cutpieces became the norm of filmmaking practice in Bangladesh Film Development Corporation (BFDC). Nasreen and Haq, in their 2008 book Bangladesher Cholochchitro Shilpo: Songkote Jonosongskriti on the crisis of public culture, found that only the captive audience of poor working-class people, who do not have any other entertainment options, continued visiting the cinema halls. Because of the vulgar and violent content and lower aesthetic values, the female audience stopped watching films at theatres. At one stage, the government initiated a drive against these films and assigned Rapid Action Battalion to take matters in hand.
After the move against "vulgar" films in 2007, producers started making films in the romantic-action genre with a touch of comedy, largely depending on the star, Shakib Khan. Due to the availability of Hindi content, BFDC directors now started copying South Indian films. One exceptional film was Giasuddin Selim's Monpura (2009), a tragic romantic film set in the backdrop of village power politics. Monpura became one of the all-time highest grossing films in the history of Bangladeshi cinema. This was a sign that independent directors would occupy the cinemas of Bangladesh in subsequent decades. Popular novelist Humayun Ahmed made two notable films adapted from his earlier novels in this period — Srabon Meger Din (2000) was particularly popular and Shyamol Chhaya (2005) was critically acclaimed. Apart from these, most of the film productions continued to struggle to get back the money invested.
The dependency on superstar Shakib Khan increased more in the next decade and Jaaz Multimedia arrived with their first film in 2012 and became the key actor in the industry. Along with producing films, they transformed the celluloid industry completely into digital filmmaking, setting up digital projection systems in more than hundred theatres. The company produced a lot of local films and some joint venture films with the Kolkata film industry, Tollywood. Jaaz Multimedia is sometimes credited with having saved the industry from decline as well as criticised for monopolising the digital market. In this decade another exceptional film is Dhaka Attack (2017), a police story directed by debutant Dipankar Dipan.
… but independents going global
A new growing trend — of presenting Bangladeshi cinema on the global stage — evolved as the survival strategy of the independent filmmakers. The young independent filmmakers began to apply for funding from abroad by submitting scripts or project proposals as well as finding ways to take part in international film festivals. Sometimes these films were commercially released in theatres in other countries. Though these films are not widely screened in Bangladesh, they represent Bangladeshi people, society and culture to the global audience.
This trend was started by Tareque and Catherine Masud's Matir Moina (2002). The film obtained money from the South Fund award from France and was a technically better film than many made in Bangladesh. The film received the FIPRESCI award at Cannes, directors' fortnight category. A prominent distributing company MK-2 picked it and released the film on both sides of the Atlantic. It ran for weeks in the United States, United Kimgdom and France. Before this, Morshedul Islam's Chaka (1993) got limited release in France. The same happened to Shankhonaad (2004) by Abu Sayeed just after Matir Moina's success. But Matir Moina became the most influential film which paved a way for the next generation filmmakers to bring Bangladeshi films to the global stage.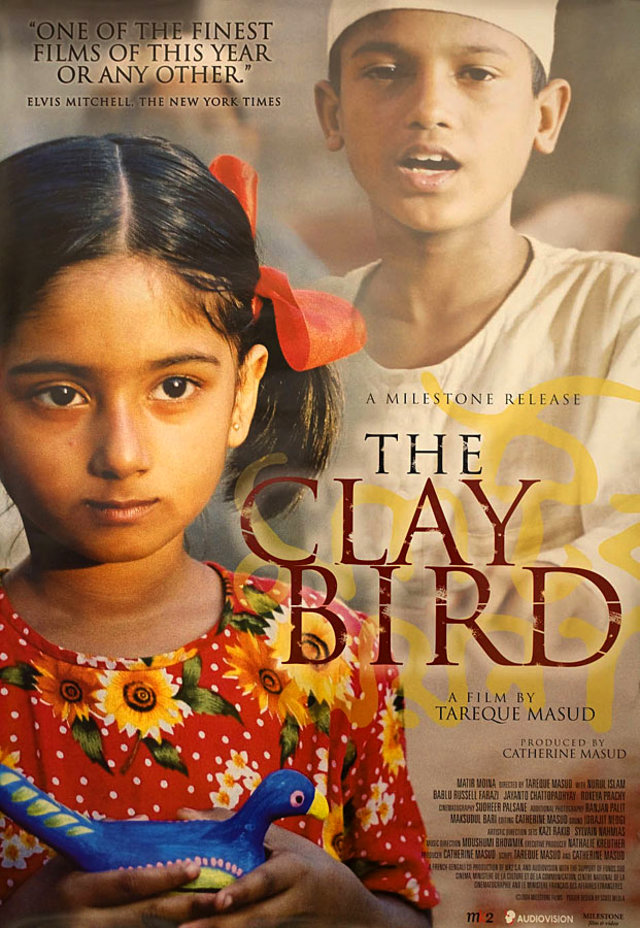 The early independent directors such as Tanvir Mokammel, Morshedul Islam and Tareque Masud were obsessed with the Liberation War narratives. The second-generation independent filmmakers look at globalised and post-9/11 Bangladesh with different eyes. In the film, Television (2013) Mostofa Sarwar Foorki depicts how Muslim identity responds to modernity as well as new technologies in a post-globalised Bangladesh. Some recent films portray the identity of urban spheres. Dhaka, the capital of Bangladesh is one of the oldest cities in South Asia, but it was almost absent in earlier cinematic depictions. But now Dhaka is regularly seen in independent films, such as Under Construction (2015) by Rubaiyat Hossain, Aynabaji (2016) by Amitabh Reza and Live From Dhaka (2016) by Abdullah Mohammad Saad.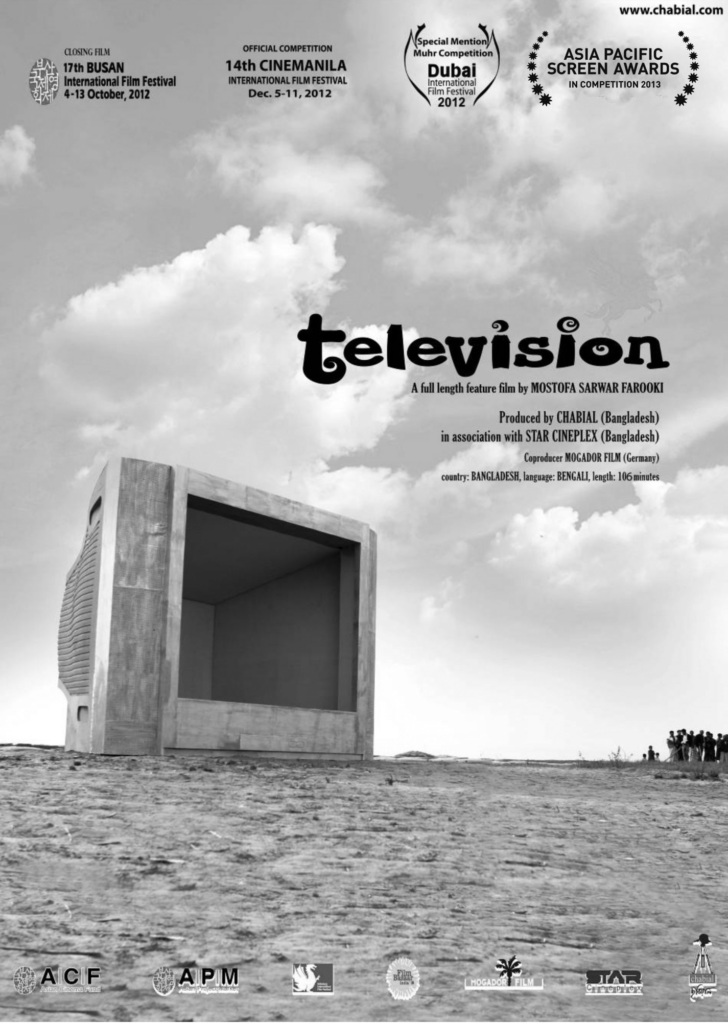 Kamar Ahmad Simon's Shunte Ki Pao! (2012), a feature length documentary got funding from several sources and awards internationally. Saad's second film Rehana Maryam Noor (2021), a resistance story of women against sexual harassment in schools, competed in Un Certain Regard category at Cannes International Film Festival which is the best achievement of a Bangladeshi film so far in the international film circuit. Mostofa Sarwar Farooki's No Lands Man (2021) is a global film in the true sense in that it is set in India, Australia and the United States and involves an international cast and crew members. Amitabh Reza's Rikshaw Girl (2021) is produced and distributed by a USA company. Kamar's Onnodin… (2021) was nominated in competition in one of the top-ranking festivals, IDFA, Netherlands.
The international film critics as well as the global audience generally mix Bangladeshi cinema together with Indian cinema or Indian Bengali cinema. But through Matir Moina, Television, Shunte Ki Pao, a rural Bangladesh is being characterised for global audiences, and through Under Construction, Live From Dhaka and Aynabaji, an urban Bangladesh is also being depicted. Though Oggatonama (2016) by Touquir Ahmed and Komola Rocket (2018) by Noor Imran could not create much impact in global stage, these two films are honest in their attempts and portray two major areas of Bangladesh economy: the remittance-oriented labour market and export oriented RMG industries respectively. The storyline of both films is developed around a dead body which is a result of the system of labour exploitation. Rubayiat Hossain's Made in Bangladesh (2019) also deals with the labour issues at RMG factories. The film got a wide release in Europe.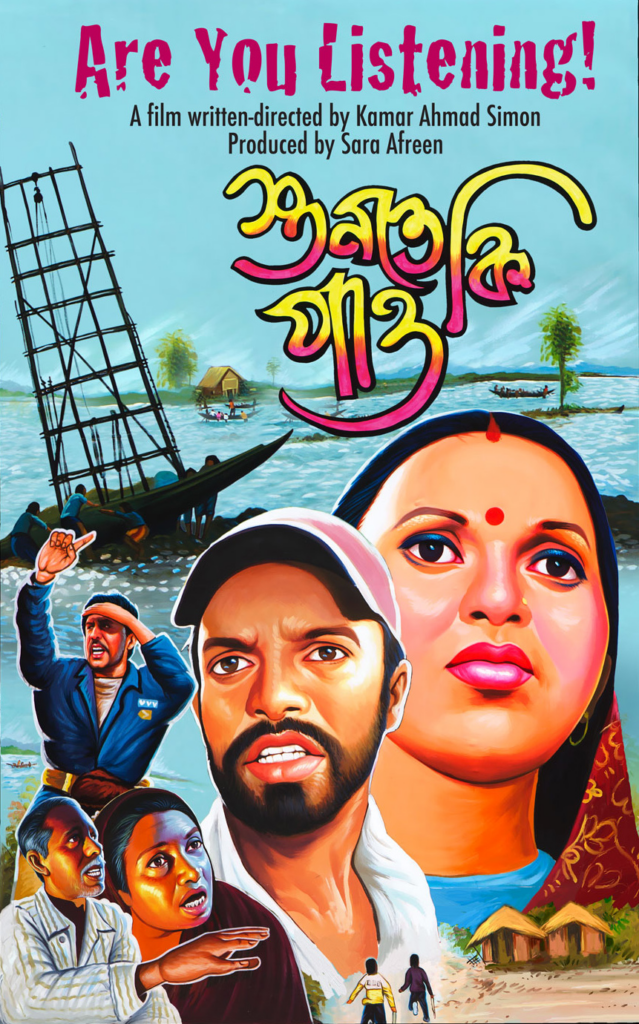 And thus, a shape of Bangladeshi cinema has been formed gradually through the projection of the unique historical, cultural and social characteristics of the country. Nasiruddin Yousuf Bachchu's Alpha (2019), Golam Rabbani Biplob's Swopnodanay (2007), Akram Khan's Khacha (2017), Zahidur Rahim Anjan's Meghmallar (2015), Giasuddin Selim's Swapnajaal (2018), Gazi Rakayat's Mrittika Maya (2013), Proshoon Rahman's Sutapar Thikana (2012), Noman Robin's Common Gender (2012), Abu Shahed Emon's Jalal's Story (2014), N. Rashed Chowdhury's Chandrabati Kotha (2019), Rezwan Shahriar Sumit's Nona Joler Kabyo (2020), Nurul Alam Atique's Laal Moroger Jhuti (2021) are a few more contributory titles in that developing process.
During the global Covid-19 pandemic, OTT platforms were established as alternative spheres for making and distributing films and web series. Bangladeshi independent films are not yet regularly seen on the global platforms like Netflix or Amazon Prime. But the local platform Chorki arrived in 2021 and already has produced a few significant films and web series. Robiul Alam Robi's mystery anthology series Unoloukik (2021) was the best production by Chorki. However, before Chorki's arrival, Bangladeshi filmmakers started creating spaces in Indian OTTs such as Hoichoi and Zee5.
However, in seeking out foreign funding and entering global distributing networks, there is a risk of a kind of self-censorship among filmmakers as they select the kind of story they think might be liked by the international financiers, for example by representing the country's culture and society as an "exotic commodity" to the western audience. There is of course a far more worrying form of censorship for Bangladeshi filmmakers, as producers can only show a film within the country once they have obtained  a certificate from the film censor board and while censorship has been around under all forms of government since independence, the censor board under the current government has been particularly restrictive in the nature of subjects permitted and so there is much self-censorship and sometimes films have difficulty getting shown within Bangladesh without significant cuts.●
Fahmidul Haq is an expert on Bangladeshi cinema, and teaches film and media at Bard College, New York as a visiting professor. He recently authored a book Cinema of Bangladesh: A Brief History (2020)