Facebook took at least six days to remove video that triggered deadly communal violence in Bangladesh
Social media company claims that a "dedicated team" took aggressive action to remove content inciting violence.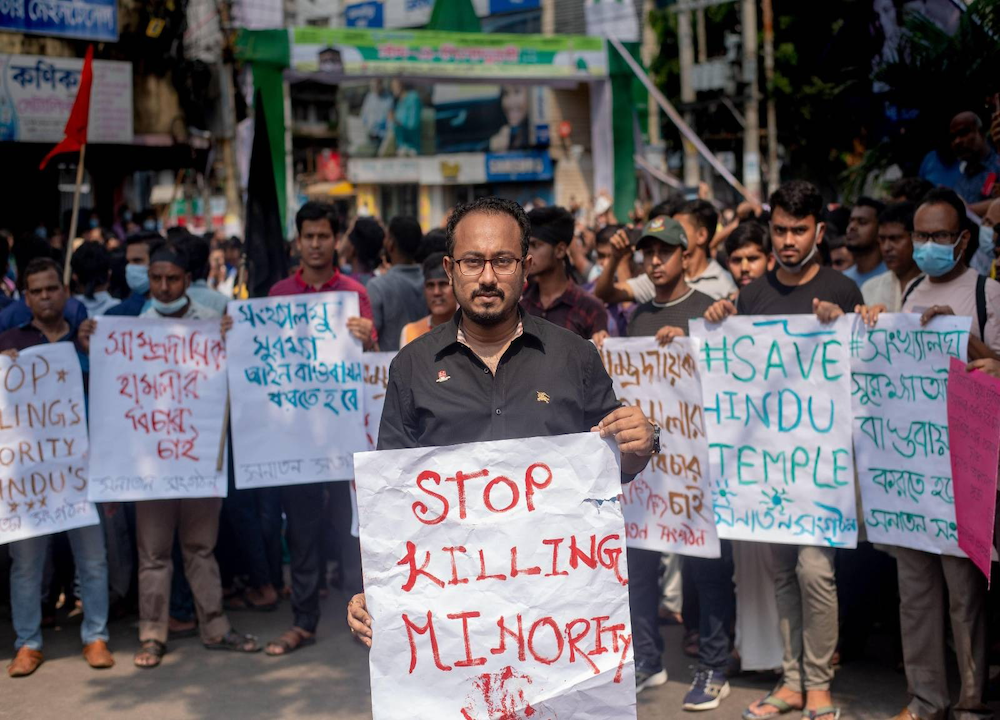 A video which triggered a week of nationwide communal violence against the Hindu community in Bangladesh causing the destruction of hundreds of houses and temples remained on Facebook for at least six days before the social media platform removed it, Netra News can reveal.
The video, posted at 6 am on October 13th, showed a police officer carrying a copy of the Quran while walking beside a temporary Hindu temple in the Nanua Dighir Par area of the town of Cumilla. It was made by a Facebook user named Mohammed Foyez, who is now in police custody. In narration of the video, Foyez claimed that the police officer "rescued" the book from "under the feet of the idol"and went onto declare that Hindus "have insulted our Quran," calling on "Muslim brothers" to "wake up".
Within an hour of the video going online, large numbers of men attacked the Hindu temple, destroying the idols. The violence soon spread to other parts of Bangladesh, where in subsequent days temples were desecrated and hundreds of houses and businesses of the Hindu minority were vandalised and many set on fire.
Seven people, including at least two Hindu men, were killed including in the police response to the protests, and many more injured in the violence. It has subsequently been reported by local media that CCTV footage showed a man, identified as a Muslim, placing the Quran at the temporary Hindu temple in Cumilla, suggesting that Foyez's video was part of a plan to incite violence against Hindus.
Yet, on October 19th, six days after Foyez posted the video on Facebook, Netra News found that the video remained publicly available. It had by then been shared 56,000 times by different Facebook accounts; liked 9,600 times; and, had 1,800 comments.
By the next day Netra News found that the post was no longer available, presumably removed by Facebook.
Foyez has only 88 Facebook friends, and so the incident illustrates how incitements to violence, even when posted by someone with minuscule social media connections, can quickly go viral.
"Facebook has been facing numerous questions about how its platform is being used to promote hate and incite violence, and this will now be added to those concerns," Meenakshi Ganguly, South Asia Director at Human Rights Watch, told Netra News.
"The ability of Facebook's algorithm to amplify and spread harmful and divisive contents has had devastating impacts in the Global South," Saad Hammadi, South Asia Campaigner at Amnesty International, told Netra News. "Social media platforms must ensure greater transparency regarding the algorithmic systems underpinning their platforms and enable independent access and scrutiny of these systems, to limit the amplification of hate speech and other harmful content."
A Facebook spokesperson did not respond directly to the question of why the post was not taken down earlier, but noted that the company "had a dedicated team monitoring the situation in Bangladesh since the recent violence broke out, and responding to risks in real time. Fact checkers in Bangladesh are rating content including out of context photos and videos, as well as misinformation targeting different communities, especially minorities. We are also taking aggressive action to remove harmful content that may be at risk of inciting violence, including attempts to spread hate or harass others."
A source within Facebook familiar with the incident however did not dispute the delay in taking the video down but claimed that it was "not accurate or contextual" to assess the speed or efficacy of Facebook's response to this conflict based on "one video".
The person said that in the midst of a rapidly evolving situation such as the recent violence in Bangladesh, it can be challenging for the company to immediately identify an accurate timeline of events but that it seeks to "remove the most harmful types of content as quickly as possible."
The source also claimed that "prior to Facebook removing this particular video", the company "had taken action on egregious content linked to the conflict including videos, posts and images that could incite violence" and put measures in place to prevent people from re-uploading this content.
Facebook is currently under significant international pressure following the release of a tranche of internal company documents by the whistle-blower Frances Haugen, a former employee which raised issues about its role in spreading inter-community violence.
Haugen warned a US congressional committee that Facebook was "literally fanning ethnic violence" in places such as Myanmar and Ethiopia because it was not policing its service adequately outside the United States. The New York Times also recently reported Facebook's role in fanning "anti-Muslim hatred" and "misinformation" in India.
In Bangladesh, there has also been long-standing friction between the company and the government authorities — mostly in relation to Facebook's refusal to remove from accounts, content which is critical of the government. In addition, Facebook has identified groups linked to the government which are involved in setting up pages pretending to be independent news outlets and involved in trying to block accounts by making fictitious reports to Facebook for alleged violations of the company's standards.
Mohammed Foyez was arrested later on the same day he posted the video for offences under the Digital Security Act which allows prosecution for those who post on social media content that "destroys communal harmony, or creates unrest or disorder."
The Hindu community has long been the subject of communal attacks in Bangladesh with the human rights organisations, Ain-o-Salish Kendra reporting that over 3,670 attacks have taken place against the Hindu community between January 2013 and September 2021.●