Sanctions against RAB commanders?
As President Biden holds the Summit for Democracy, the time may be right for the United States to sanction those responsible for hundreds of extrajudicial killings in Bangladesh.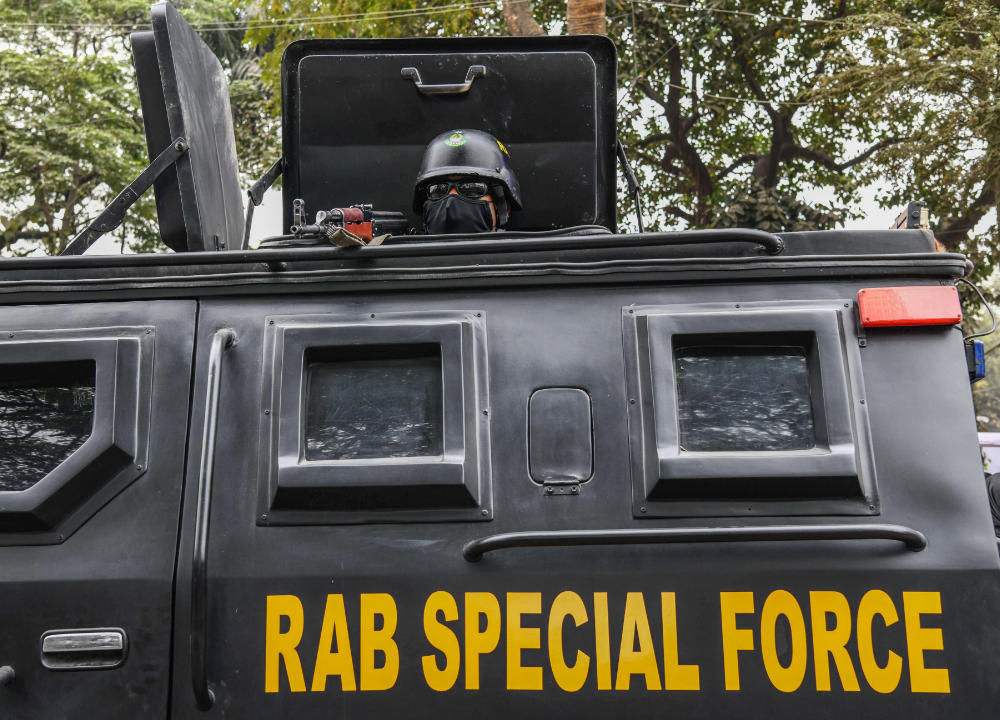 Since its inception, Bangladesh's Rapid Action Battalion (RAB) has extrajudicially executed or secretly detained hundreds, if not thousands, of people. Some of its victims were suspected criminals, ranging from petty criminals or drug peddlers to serious militants. But many others were regular, innocent civilians or political opponents of the ruling party.
RAB was introduced as a response to the general lawlessness across Bangladesh. A US diplomat stationed in Dhaka in 2005 called it "easily the government's most popular initiative." The public was fed up with a fragile criminal justice system overwhelmed by corruption, caseloads, and political influence. Therefore, quick solutions such as "crossfires" were massively popular.
As an elite unit within — but only loosely controlled by — the police, RAB initially targeted jihadi terrorists, left-wing extremists, and other violent criminals. Its members wear black sunglasses and ninja black uniforms, with a black bandana on their heads, and are armed with sophisticated weaponry. Along with its macho swagger, RAB zealously competes with police to take up the most sensational cases. Its efficient media wing, led by a dedicated spokesperson, ensures maximum exposure. All of these contributed to its populist appeal.
But like any other militarised law enforcement forces operating with carte blanche, it did not take long for RAB to function virtually as a mercenary criminal enterprise. In 2014, for example, its members in Narayanganj abducted and then murdered seven people for Taka 6 million. Reports after reports describe how RAB members were hired to abduct or murder political and business rivals.
The international community has rightly pressed Bangladesh to have RAB on a leash. But their pleas fell on deaf ears. Even days ago, RAB gunned down two Rohingya refugees, suspected drug dealers and dacoits, in an alleged "gunfight", an euphemism for extrajudicial murders.
With Bangladeshi authorities unwilling to contain RAB, politicians within countries such as the United States are exploring options. On October 27th 2020, US Senator Bob Menendez, an influential Democrat who currently chairs the Senate Foreign Relations Committee, led a bipartisan group of senators to call for targeted sanctions against RAB commanders. In a letter addressed to the US secretaries of state and treasury, the senators cited cases that "illustrate a pattern of gross human rights violations for which the Rapid Action Battalion and its senior leadership have faced no consequences."
President Donald Trump's administration did not act on the request — unsurprising, given the history of its timid responses to global human rights violations. In contrast, President Joe Biden promises to place strengthening democracy abroad as a defining feature of his foreign policy, and is planning a "Summit for Democracy" this week. The summit, to which Bangladesh was not invited, would also reportedly coincide with the announcement of sanctions against corrupt foreign officials and human rights abusers. The US would also ask other democracies to adopt similar actions.
Though it remains unclear whether the US State Department's decision against inviting Bangladesh was a calculated decision or not — the White House press secretary Jen Psaki said this week that "Inclusion or an invitation is not a stamp of approval on [a country's] approach to democracy, nor is exclusion a stamp of the opposite of that, of disapproval" — it could well be a sign that the Biden administration intends to take on Bangladesh's growing authoritarian regime seriously. If so, then its response to the human rights abuses by RAB (and other security agencies) ought to be different than its predecessor.
There are other signs that the US Congress may ramp up pressure on the Biden administration to act more stringently. On August 31st 2021, US Congress' bipartisan Tom Lantos Human Rights Commission conducted a hearing on enforced disappearances in Bangladesh. At the hearing, Angelita Baeyens of the Robert F Kennedy Human Rights recommended that the US government should "review" its relationship with Bangladeshi security forces.
There should be "a strong call for particularly problematic forces and units, such as the Rapid Action Battalion, to be dismantled and at minimum, to be barred from participating in international peacekeeping missions," Baeyens said. "And very importantly, the US Government should use targeted sanctions on high-ranking officials with command responsibility for enforced disappearances and other serious abuses, such as extrajudicial killings and torture."
The efforts in the US came as a group of international lawyers in late August made a formal submission to the United Kingdom's Foreign, Commonwealth and Development Office (FCDO), recommending the imposition of sanctions on six Bangladeshi government officials and nine members of RAB.
As the Biden administration seeks to restore a rules-based international order, it is imperative that the administration's promises are met with actions.●