US Government sanctions RAB, Bangladesh police chief
In major policy shift, the United States imposes sanctions on Bangladesh's notorious law enforcement unit and its current and former commanders.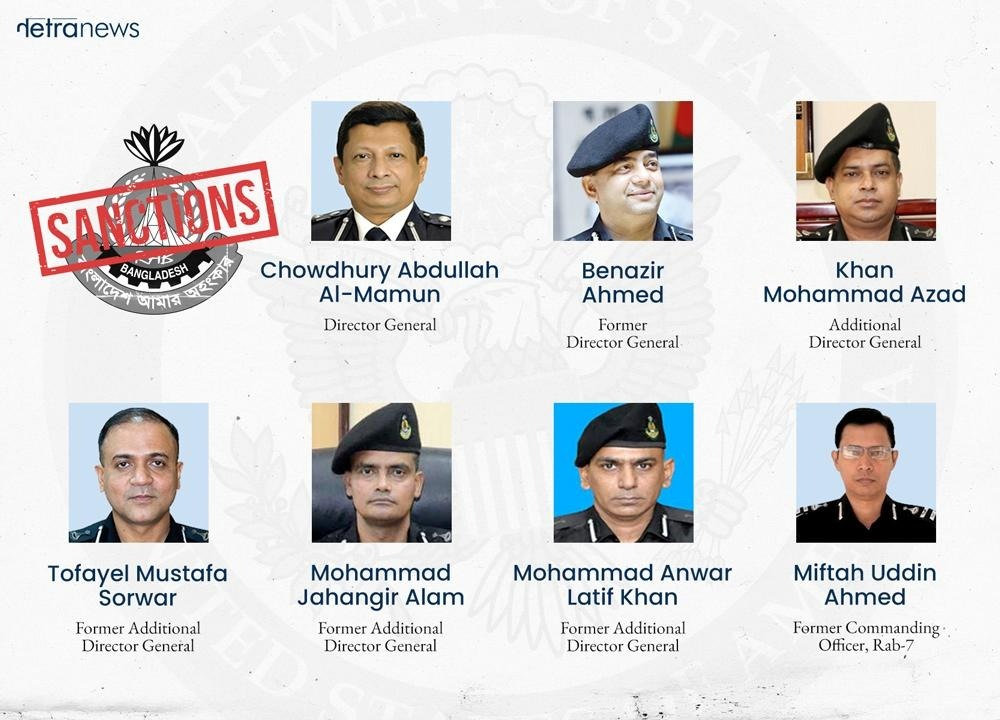 The United States has imposed targeted sanctions against the Bangladeshi elite police unit, Rapid Action Battalion, along with seven current and former senior officials, following a successful campaign by several human rights organisations.
Separately announced by US departments of treasury and state, the sanctions represent the most serious action undertaken by the US government against Bangladesh's growingly authoritarian regime led by Prime Minister Sheikh Hasina.
"Widespread allegations of serious human rights abuse in Bangladesh by the Rapid Action Battalion (RAB) — as part of the Bangladeshi government's war on drugs — threaten US national security interests by undermining the rule of law and respect for human rights and fundamental freedoms, and the economic prosperity of the people of Bangladesh," the US Treasury press release notes.
The sanctions in particular target the Inspector General of Police (IGP) Benazir Ahmed, who was the head of RAB between January 2015 to April 14th 2020.
Benazir Ahmed is amongst Hasina's most powerful and trusted allies within the security and law enforcement apparatus. As the former chief of the Rapid Action Battalion (RAB) and the current police chief, he has unabashedly defended the forces' practice of extrajudicial executions. He also spearheaded the notorious war on drugs which resulted in violent deaths of hundreds of people across the country.
Ahmed was not only listed as a designated person by the US Department of the Treasury's Office of Foreign Assets Control (OFAC) — impacting any assets he may have, or business he may wish to do, in the United States — but the US State Department has also imposed sanctions preventing him and his immediate family members from entering the United States.
The State Department specifically states in its press release that Ahmed's visa restrictions was due to "his involvement in a gross violation of human rights, namely the May 2018 extrajudicial killing of Teknaf City Municipal Councilor Ekramul Haque in Teknaf, Cox's Bazar District, Bangladesh."
"The US government has made the right decision to sanction the Rapid Action Battalion in Bangladesh, and several of its senior officials," Meenakshi Ganguly, the South Asia Director of Human Rights Watch, told Netra News. "RAB faces allegations of serious human rights violations including torture, enforced disappearances and extrajudicial killings. This is an important message to both perpetrators and victims that there is accountability for such terrible crimes. The Bangladesh authorities should immediately investigate the allegations of violations, hold those responsible to account, inform families of the disappeared about the whereabouts of their loved ones, put an end to all politically motivated arrests, and take immediate steps to disband the Rapid Action Battalion."
Treasury's OFAC designated RAB for financial sanctions – describing it as a "foreign entity that is responsible for or complicit in, or has directly or indirectly engaged in, serious human rights abuse" – along with a total of six individuals for financial sanctions. Apart from Ahmed, it sanctioned the current Director General of RAB, Chowdhury Abdullah Al-Mamun, who has been in the post since April 15th 2020 and Khan Mohammad Azad, the Additional Director General (Operations), in position since March 16th 2021.
The three other men are former RAB officers: Tofayel Mustafa Sorwar, former Additional Director General (Operations), RAB, in post between June 27th 2019 to March 16th 2021; Mohammad Jahangir Alam, former Additional Director General (Operations), RAB, in post between September 17th 2018 to June 27th 2019; and Mohammad Anwar Latif Khan, former Additional Director General (Operations), RAB, in post between April 28th 2016 to September 17th 2018.
The Treasury designation means that any property and interests in property of these men that are in the United States or in the possession or control of US persons "are blocked and must be reported to OFAC". It also means that no person or entity in the United States is allowed to undertake any financial transactions with these men.
"NGOs have alleged that RAB and other Bangladeshi law enforcement are responsible for more than 600 disappearances since 2009, nearly 600 extrajudicial killings since 2018, and torture. Some reports suggest these incidents target opposition party members, journalists, and human rights activists," the Treasury press release adds.
Other than the country's current police chief, the State Department also imposed visa restrictions on Miftah Uddin Ahmed, lieutenant colonel and former commanding officer of RAB-7, for his involvement in the extrajudicial killing of Teknaf City Municipal Councilor Ekramul Haque.
"We are determined to put human rights at the center of our foreign policy, and we reaffirm this commitment by using appropriate tools and authorities to draw attention to and promote accountability for human rights violations and abuses, no matter where they occur," said Anthony Blinken, the US Secretary of State in announcing the sanctions.
Prominent human rights groups such as the Human Rights Watch and Robert F Kennedy Human Rights played a pivotal role in the campaign to convince the US to impose the sanctions.
"The US Government should use targeted sanctions on high-ranking officials with command responsibility for enforced disappearances and other serious abuses, such as extrajudicial killings and torture." Angelita Baeyens of the RFK Human Rights recently told a US Congress commission.
The sanctions were announced on the second day of the Summit for Democracy, a conclave of countries organised by the Biden administration to shore up democracy abroad — to which Bangladesh was not invited. Bangladeshi senior officials initially shrugged off not being invited to the summit by Washington. The foreign minister, AK Abdul Momen, also questioned the United States' prerogative to hold such a summit.
In a recent dialogue organised by the Cosmos Foundation, US Ambassador to Dhaka Earl Miller reaffirmed his country's support for "free, fair, credible, participatory and peaceful elections" in Bangladesh, "Democracy can only function when all people are fully included, their rights are protected, their voices are heard, and their votes are counted."
The sanctions reflect the Biden administration's stated commitment to shore up democracies abroad, in general, and Washington's growing frustration at Bangladesh's democratic backsliding, in particular.
Netra News has reached out to a RAB spokesperson for their comment on this developing story.●