US sanctions on RAB: Key facts and analysis
What you need to know about the imposition of US sanctions on Bangladesh's elite law enforcement unit.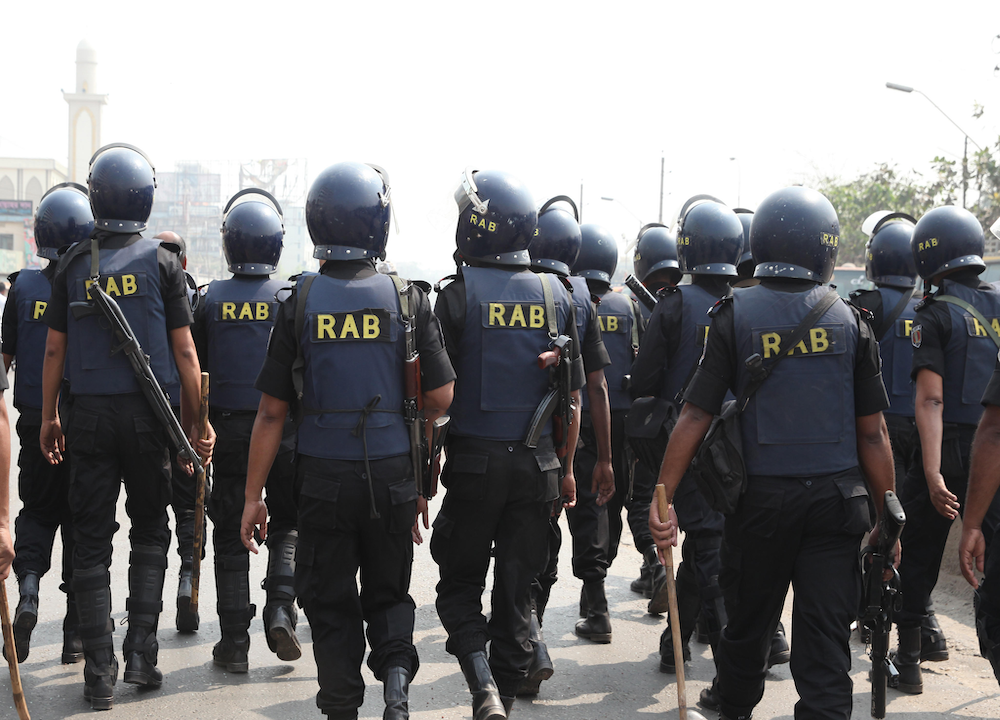 The United States government has imposed sanctions on the elite law enforcement unit, Rapid Action Battalion (RAB), and seven individuals connected to it — six of whom are current or former director generals or additional director generals and one who was a commander. Most of the sanctions were imposed by the US Department of Treasury but some were imposed by the US State Department. It has done so under executive orders associated with the Global MaGlobal Magnitsky Human Rights Accountability Act 2016.
Treasury sanctions
The US Department of Treasury's Office of Foreign Assets Control (OFAC) described RAB as a "foreign entity that is responsible for or complicit in, or has directly or indirectly engaged in, serious human rights abuse". In addition, OFAC sanctioned six RAB officers — two of whom currently lead RAB. This means that the financial assets of these men in the US are blocked and US persons — citizens, residents, companies — are prohibited from dealing with them.
The current RAB officers sanctioned by OFAC are:
— Chowdhury Abdullah Al-Mamun, Director General, RAB, since April 15th 2020
— Khan Mohammad Azad, Additional Director General (Operations), RAB, since March 16th 2021
Former RAB officers sanctioned are:
— Benazir Ahmed, former Director General January 2015 to April 14th 2020
— Tofayel Mustafa Sorwar, former Additional Director General (Operations), between June 27th 2019 to March 16th 2021
— Mohammad Jahangir Alam, former Additional Director General (Operations), between September 17th 2018 to June 27th 2019
— Mohammad Anwar Latif Khan, former Additional Director General (Operations), between April 28th 2016 to September 17th 2018
Two of these men are from the police — Benazir Ahmed (now IGP, police) and Chowdhury Abdullah Al-Mamun (who was the chief of the police's Criminal Investigation Department) while the other four were in RAB on deputation from the army.
In a press release OFAC said the following about RAB:
"Widespread allegations of serious human rights abuse in Bangladesh by the Rapid Action Battalion (RAB) — as part of the Bangladeshi government's war on drugs — threaten US national security interests by undermining the rule of law and respect for human rights and fundamental freedoms, and the economic prosperity of the people of Bangladesh. […] NGOs have alleged that RAB and other Bangladeshi law enforcement are responsible for more than 600 disappearances since 2009, nearly 600 extrajudicial killings since 2018, and torture. Some reports suggest these incidents target opposition party members, journalists, and human rights activists."
It is notable that the main focus of the US government concern about the RAB's extrajudicial killings are those that were "part of the Bangladeshi government's war on drugs". Although the Treasury press statement notes RAB's role in repression against "opposition party members, journalists, and human rights activists" this does not seem to be the focus of concern.
The particular individuals were sanctioned because they have been "a leader or official of RAB."
US State Department sanctions

In addition to the Treasury sanctions, the US Department of State also imposed sanctions on two individuals — Benazir Ahmed, already named by OFAC (see above), and Lieutenant Colonel Miftah Uddin Ahmed, who was a former commanding officer of RAB- 7. The State Department press release states that the two officials were sanctioned "for their involvement in a gross violation of human rights, namely the May 2018 extrajudicial killing of Teknaf City Municipal Councilor Ekramul Haque in Teknaf, Cox's Bazar District, Bangladesh."
[For more about the extrajudicial execution of Ekramul Haque, read this article.]
State Department sanctions mean that neither men nor their immediate families will be able to get visas to the United States.
Longstanding and accumulating evidence against RAB

Evidence that RAB has been involved in extrajudicial killings and disappearances has been long-standing, indeed emerging soon after it was established by the Bangladesh Nationalist Party-led government in April 2004. So the decision to take action against the law enforcement unit has, from a human rights perspective, been very long in coming.
Noted below are the reports published by just one human rights organisation, Human Rights Watch (HRW).
In December 2006 HRW published a report, "Judge, jury and executioner: Torture and extrajudicial killings by Bangladesh's elite security force" where it accused RAB of being "implicated in the unlawful killings of at least 350 people in custody, and the alleged torture of hundreds more. […] Many of the deaths for which RAB is responsible resulted from summary executions. Others came after extreme physical abuse. RAB's torture methods include beatings with batons on the soles of the feet and other parts of the body, boring holes with electric drills, and applying electric shock."
In May 2009, following the end of the two year emergency period, when the army was in control, HRW published another report titled, "Ignoring executions and torture: Impunity for Bangladesh's security forces" which in part dealt with killings by RAB.
In May 2011, after the Awami League came to power, HRW's report titled, "Crossfire: Human rights abuses by Bangladesh's Rapid Action Battalion" focused entirely on extrajudicial killings, enforced disappearances and torture by RAB.
In 2013, RAB was commonly identified as responsible for killings in HRW's new report, "Blood on the Streets: The use of excessive force during Bangladesh protests".
Again, in 2016, RAB was repeatedly identified as a perpetrator in HRW's report on Kneecapping and maiming by Bangladesh security forces.
HRW's 2017 report on secret detentions and enforced disappearances, "We don't have him" also identified RAB as responsible for many of these incidents.
Political pressure from US politicians

An important precursor to the imposition of sanctions was a letter sent in October 2020 by ten senators, a mixture of Democrats and Republicans, to Mike Pompeo, the Secretary of State, and Steven Mnuchin, the Secretary of the Treasury calling on the Trump administration (in power at that time) to impose sanctions on senior commanders of RAB for their role in extrajudicial killings, enforced disappearances and torture. The letter read in part:
"We write to express our serious concern about the ongoing human rights violations reportedly perpetrated by the Rapid Action Battalion (RAB) of the Bangladesh Police. Since 2015, the RAB has reportedly extrajudicially killed more than 400 people, and the RAB has been credibly implicated in many cases of enforced disappearances and torture. These violations appear to be part of a broader crackdown on dissent by the ruling Awami League, and the RAB has not been held to account. We urge you to impose targeted sanctions on senior RAB commanders responsible for these gross human rights violations under all applicable authorities."
Targeted sanctions
The US sanctions are an important corrective to the Bangladesh government's highly glossy portrayal of the country as a development star, which fails to acknowledge the severe human rights, democratic and governance backsliding that has taken place in recent years. The government should however be thankful that the sanctions are restricted to RAB itself and do not go up the political chain of command to the senior political figures within the Awami League government who oversee RAB and provide it direction and guidance. This is most likely a very deliberate decision by the US government to avoid attacking the country's political leadership. The government should keep that in mind as these international sanctions could have been — and may in the future be — far worse for it. The decision by the US government to focus its attention on deaths during the war on drugs rather than on RAB's political role against the opposition and other critics should also be seen as sparing the government from further embarrassment.
Implications
Impact upon RAB: RAB's designation by the US government as a "foreign entity that is responsible for or complicit in, or has directly or indirectly engaged in, serious human rights abuse" as well as the sanctioning of RAB's current Director General and Assistant Director General (operations) could well ultimately be the nail in the coffin for the law enforcement unit. Who will now want to be seconded into RAB? Army officers are in particular likely to be less keen to be part of RAB, as they may fear that their involvement in the battalion could in the future impact upon whether the United Nations allows them to participate in peacekeeping operations, which is coveted work for its high international-standard pay. We will have to wait and see how the UN responds to the US action — but if the UN does decide against employing army officials who will work, or have worked, with RAB, this could have a very significant impact upon the army whose officers have come to expect the money they received from UN peacekeeping.
The financial sanctions imposed on RAB will also now make it difficult for the agency to purchase surveillance or other equipment which in recent years it has been involved in buying.
Will the US sanctions have an impact on how RAB — and indeed other Bangladesh law enforcement agencies — acts in the near future? Will it stop extrajudicial killings and other extreme abuses? This is of course difficult to judge. One of the factors that has allowed RAB and other law enforcement agencies to commit human rights abuses is that they know that they have guaranteed immunity from any accountability within Bangladesh. It is possible that RAB's more senior personnel may now think that future participation in killing operations could risk sanctions from the United States. We will have to wait and see whether these sanctions have this kind of deterrent effect.
Impact on the government: Anyone who has been involved in dealing with the Bangladeshi government over human rights allegations will not be surprised at the response it has given to these sanctions. The foreign minister, AK Abdul Momen, has said: "They [the US authorities] should do more fact-finding and not say anything just for the sake of saying." The law minister, Anisul Huq said that the allegations were "fictitious". The home minister, Asaduzzaman Khan, has said law-enforcement agencies only kill in "self-defence" and that all deaths are investigated. Colonel AKM Azad, the additional director general of RAB has stated that "RAB is a great human rights activist."
However:
— As should be clear from just reading the reports of Human Rights Watch, information about extrajudicial killings and disappearances by RAB have been well documented by local and international organisations and the US State Department and Treasury would have been very well informed about the conduct of RAB before imposing these sanctions.
— It is clear from the multitude of fact- finding and investigations that RAB is involved in direct extrajudicial killing — as opposed to killing in self-defence.
— The overwhelming majority of deaths are not subject to a proper investigation. If there is any "inquest" they are just rubber stamped documents.
While the government is seeking to discount the importance of the sanctions in their public announcements, it is likely that internally, they are both angry and very concerned. Angry because, as mentioned above, it cuts across all their messaging on the 50th anniversary of the country — and so close to victory day of. Concerned because till now, they have not faced any real international response to their human rights violations and have felt that they could get away with anything, that they were invincible.
The sanctions may therefore be a gut punch to the government — a reality check. The sanctions show that the government's conduct on human rights can come back to bite them. Much of the strength of the current government is derived from its control of the law enforcement and security agencies, including RAB in particular, who have been very loyal to the Awami League. This control could start to crack. The government will also  be wondering whether other governments might do the same — and whether the fixing of next year's nation elections could result in further US sanctioning. Whether these internal views will actually result in any changes in policy is hard to say. 
Impact on the police: The person who has faced the brunt of the sanctions is the current head of the Bangladesh Police, Benazir Ahmed. He at present holds the position of Inspector General of Police but for five years was the director general of Rapid Action Battalion.
In 2018, the highest annual number of extra judicial killings at the hands of RAB took place under his command — 136 — and he was in charge during the government's "war on drugs."
In 2019, the year before his promotion, 101 people were killed. Will it really be possible for Benazir Ahmed to continue in his role as head of Bangladesh's police when he has been sanctioned by both the US State Department and Treasury, his reputation so thoroughly besmirched? This seems unlikely.
[To know more about Benazir Ahmed, read this article Netra News published about him last year.]
The sanctions could well have an impact upon senior police officers' future willingness to be part of RAB. And arguably, it could have a wider impact upon the police who may be less willing to act in a repressive way against the political opposition, fearing the consequences.
Impact on the army: It is important to recognise that, along with the police, Bangladesh's army is impacted by these sanctions. RAB is a joint task force comprising members of the police, army, navy, air force, and border guards who are seconded to the RAB from their respective units — with army officers holding key positions. The sanctioned Tofayel Mustafa Sorwar; Mohammad Jahangir Alam, Mohammad Anwar Latif Khan and Miftah Uddin Ahmed were all seconded to RAB from the army, and have now returned to it. The army officer, Khan Mohammad Azad remains in RAB.
Impact on the men: Apart from the significant reputational damage, the financial sanctions will particularly hit hard those sanctioned men who have assets in the United States — however the sanctions can also preclude any financial transactions that these men have with any US company or bank based anywhere in the world. Indeed an even wider range of financial transactions that these men may wish to undertake outside Bangladesh could also be negatively impacted. The State Department sanctions preventing entry into the US on two of the men also has a direct impact on the men by preventing their entry, and that of their direct families, into the United States.
Understanding US government policy
While from a human rights perspective, there may be good arguments for the sanctions — accountability, punishment and deterrence — many will think that the US government decision is a surprise in the context of what many see as Bangladesh's increasingly important strategic position within South Asia and its move away from the US-Indian orbit to a more independent position, involving a closer relationship with China. From this perspective, the US decision to impose sanctions against RAB (as well as in particular a close prime-ministerial ally, the country's chief of police) could risk pushing Bangladesh closer into China's orbit.
However, it would be wrong to over play China's influence on Bangladesh. The country remains strongly tied economically with the US and it needs those ties to remain firm. This is particularly because the US is Bangladesh's main export destination, comprising 20% of all the country's exports. However, to the extent that the US is concerned about Bangladesh's relationship with China, a show of strength like sanctions could work to make the Bangladesh government understand the risks it faces.
Linked to this, contemporary Bangladesh also falls within the modern ideological conflict between democratic and authoritarian states — something well represented by US President Biden's "Summit for Democracy" to which Bangladesh was notably not invited to. The US may see that Bangladesh's movement towards authoritarianism means that the government is increasingly taking its cues more from China and Russia than Western democracies. In that context — with a year to go before Bangladesh elections — the sanctions may also be a warning that the US will be taking a more strident approach if/when the Bangladesh government fails to hold free and fair elections.
Of course, it is also quite possible that the sanctions could just mean that on this occasion those within the Biden administration who are more concerned about human rights got the upper hand over foreign policy realists, and so sanctions were imposed not because of the government's foreign policy or strategic interests, but despite them. Arguably, sanctioning RAB is low hanging human rights fruit — easy to do and get credit for, but with limited drawback and blowback.
Further sanctioning?
In his statement about the sanctions, Anthony Blinken, the US Secretary of State stated:
"The United States appreciates the coordinated actions taken today by the United Kingdom and Canada under their respective sanctions programs to target Burmese military actors responsible for violence and repression. We also welcome the close coordination with the EU, UK, and Canada last week on our strongest sanctions package to date on Belarus, which jointly imposes costs on the Lukashenka regime for its continued repression of the Belarusian people. The United States looks forward to continuing our partnerships with allies, partners, and civil society alike in defending human rights and promoting accountability and good governance."
Notably missing here was any coordinated action on Bangladesh. Will other countries follow up on the US Sanctions, something which the Bangladesh government would be very concerned about? An application for sanctions of this kind was recently submitted to the UK Foreign Office, but so far we have heard nothing from it. Other governments which have these powers may decide to wait and see what the impact of these US sanctions are on the Bangladesh government and its position on human rights before deciding how to proceed.●
* Disclosure: Before the establishment of Netra News, two of its current editors were involved in research or writing of a number of the HRW reports cited in this article.