What did Bangladesh gain from Modi's visit?
With at least 14 protestors dead, a resurgence of a conservative Islamic grouping, an angered West Bengal leader, it is unclear who gained from the Indian prime minister's visit.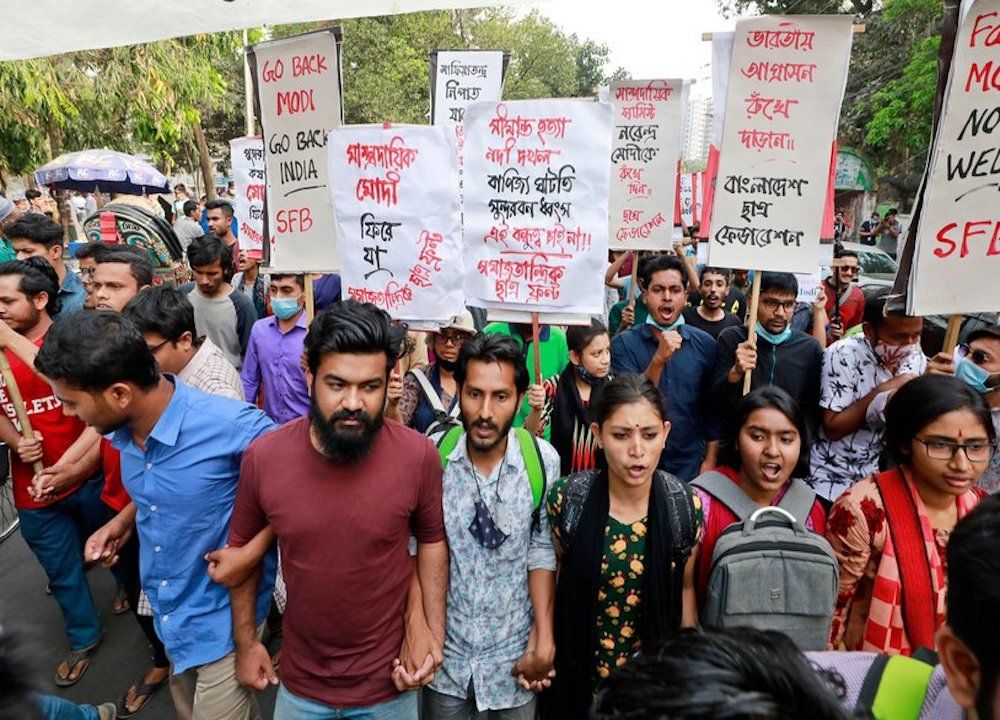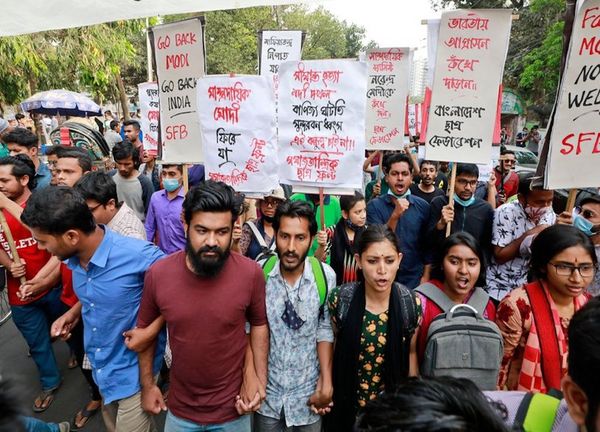 The violent protests in Bangladesh over a visit by the leader of the county's most favoured neighbour India, which resulted in the deaths of at least 14 supporters, was an outcome which neither the host nor the guest wanted. 
The occasion of the visit was a particularly auspicious one for Bangladesh which rightly prides itself on its independence gained through a nine-month long armed struggle. It was also not unexpected for there to be anything other than high level participation from India in not only the launching of the Golden Jubilee of independence but also the conclusion of a year-long celebration of the birth centenary of the founding leader of the nation, Sheikh Mujibar Rahman. India's moral, political and military support in Bangladesh's liberation war meant that any deviation from such participation would have definitely raised eyebrows about the state of the relationship between the two countries.
This goodwill visit will inevitably be remembered for all the wrong reasons. One amongst those, as pointed out by Ashok Swain, an Indian professor of peace and conflict studies at Uppsala University in Sweden, that there has not been any other prime minister's foreign visit in India's 74-year history where people have been killed while protesting against the trip. Bharat Bhushan, another prominent Indian analyst pointed out that "the protests indicate a widening gap between the excellent functional relationship between the two governments and the perception of the people of Bangladesh''. Modi's visit has also been dubbed as electioneering beyond borders to assist him in the ongoing staggered polling in one of the larger states of India, West Bengal's legislative assembly. One of the fiercest critics of the Indian prime minister, the Chief Minister Mamata Banerjee formally complained to India's election authority for violating the country's electoral code of conduct.
At the centre of Banerjee's grievances was Modi's visit to a remote village called Orakandi in Kashiani Upazila in Gopalganj district to worship at a Motua temple. Motua is a low-caste Hindu community with a following of between 50 and 70 million people spread over both parts of Bengal. Modi's apparent religious visit was to woo support among the Motuas in West Bengal, as the speculation goes. Pollsters believe that this community's voters could change the course of the tightly fought state assembly's result. Modi's visit to the most revered Motua leader late Harichand Thakur's village and temple was his last chance to regain the community's confidence who have felt betrayed by the non-implementation of the highly controversial Citizenship Amendments Act (CAA). Modi's Bharatiya Janata Party (BJP) government had promised to grant citizenship to millions of Motua Hindus who migrated to West Bengal over the last five decades and beyond and the CAA delivered BJP spectacular success in West Bengal in 2019's parliamentary election.
The Bangladesh government had to go to extraordinary lengths to organise the Indian prime minister's Orakandi visit involving the construction of new helipads and roads, and giving the temple and its surroundings a facelift. But with it comes significant political risks.
Banerjee's anger over this part of the visit makes it evidently clear that any water sharing treaty between two countries on rivers flowing through both parts of Bengal will face strong resistance. Moreover, if Modi's BJP succeeds in capturing the Nabanna, the administrative seat of the West Bengal state government, Bangladesh risks even more damage.
Two of BJP's most controversial, divisive and intertwined projects — the CAA and National Register of Citizens (NRC) — are aimed at identifying mostly Bangla speaking Muslims which has already rendered about 1.9 million people stateless in Assam. Modi's closest ally in the party, Home Minister Amit Shah, has made it abundantly clear that what happened in Assam will be replicated in West Bengal. It is likely that millions of these Bangla speaking people will be forced to either seek shelter in Bangladesh or become second class citizens in India without basic rights.
Recriminations over the violence in Bangladesh that marked Modi's visit has already started and is expected to continue for quite a while as the government seems determined to further crackdown on the opposition Bangladesh Nationalist Party, rather than the Islamists, particularly Hefajat-e-Islam. It is, however, notable that the anti-Modi protests were not steered only by Hefajat. Instead, various left parties, which are not known to be particularly anti-Indian, along with the newly floated youth and student organisations led by former Vice President of Dhaka University Student Union (DUCSU) Nurul Haq also played a significant role in initial protests, and the police have implicated a good number of their activists in criminals cases for disturbing the peace. Noting these groups' role, analyst Bharat Bhushan in his column in the Business Standard of India wrote, "Indian policy makers must not blame antipathy against India in Bangladesh on Islamic fundamentalist groups". He also said "new elements have impacted public perception under the BJP government. Its anti-minority image and use of religion for electoral gains worries Bangladeshis".
While both governments feel elated at the current state of their bilateral relationship and describe it as never better, the distrust and latent resentment amongst the general Bangladeshi population towards India has also perhaps been never greater than at any time before. The most crucial reason for this popular discontent is India's endorsement of the Awami League government which has been accused of depriving its people from exercising their right to vote in two consecutive elections. The frustration is palpable.
As a backdrop, there is also perceived unfairness in bilateral relations between the two countries — including the longstanding disputes over sharing of waters of Teesta and other common rivers; unabated killings on the border; and, lack of reciprocity in allowing transit to Nepal and Bhutan and other trading arrangements. Although during this visit, Modi's second after a five year gap, he showed himself to be very generous — donating more than 100 ambulances and 1.2 million doses of vaccines and the signing of five MOUs, not a single one of the key irritants was resolved.
There is little doubt that the visit will remain as a permanent scar on the Awami League as Bangladeshis draw parallels between the scenes in Delhi and in some BJP ruled states, where Muslims have been beaten by BJP thugs and its cohorts, and those in Bangladesh involving the activists of the governing party's Chhatra League and Jubo League who attacked anti-Modi protests. It has also pushed most of the Islamist groups towards an alignment with Hefajat, who propagates the most conservative form of Islam. Unless the government allows the opposition BNP due political space, sooner than later, Hefajat's resurgence as a political force is a real possibility.
In an article marking the visit published in the Daily Star, Prime Minister Modi wrote, "[I]magine a scenario wherein our people could study, work, and do business effortlessly across this subcontinent — the world's largest pool of young people joining their energies to create wealth, innovation and drive new technologies. This would have been the most natural vaccine against the toxic infusion of radicalism, violent extremism and hatred in our societies". Alas, it is his government who aggressively puts up barbed wires and barriers on the frontiers, thereby restricting free movement of people unlike the situation existing in Europe. And it is his party, the BJP, that is accused of spreading hatred against minorities and unsettling the region as a result.●
Kamal Ahmed is an independent journalist.