Why Hasina did not remove General Aziz
How Bangladesh's prime minister dealt with the fallout of "All the prime minister's men" — by not changing anything.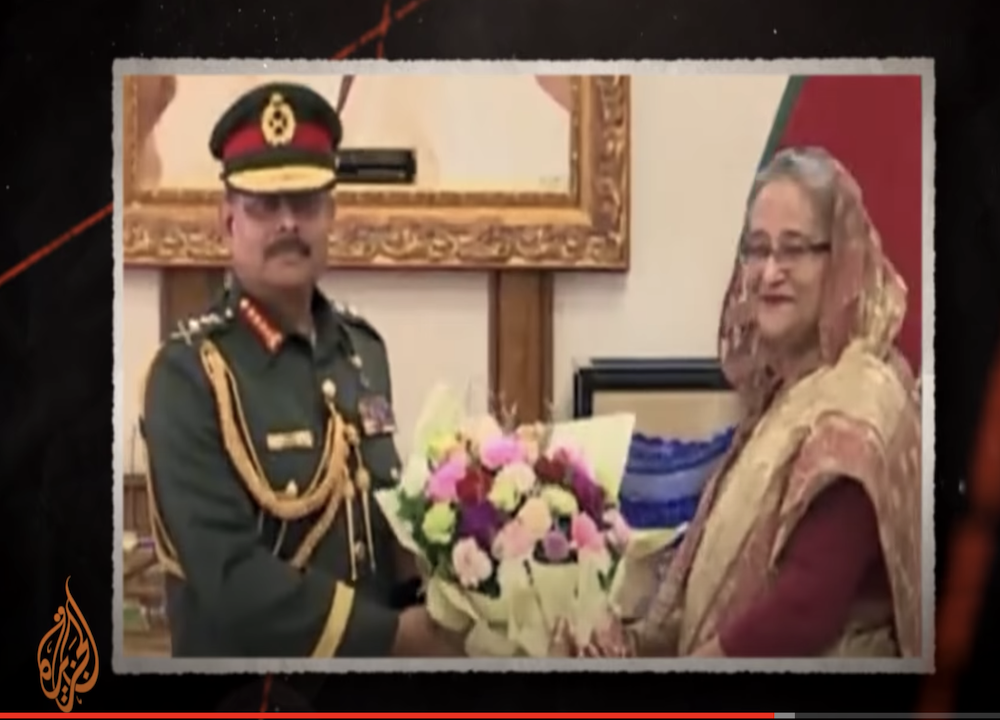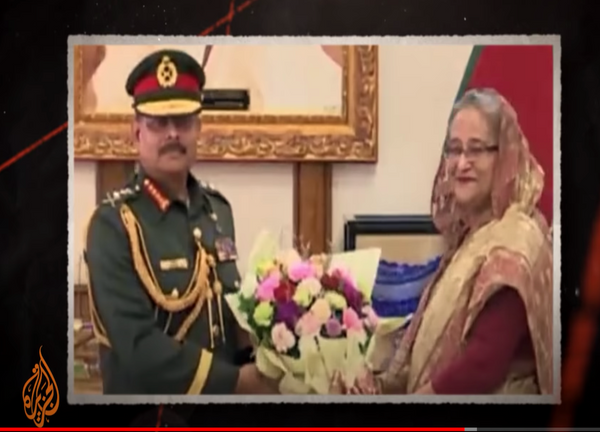 Al Jazeera Investigative Unit's documentary broadcast at the beginning of February told a startling story about corruption at the core of the Bangladesh government. But, two and half months on, what is perhaps more remarkable than the corrupt behaviour of the country's chief of army staff (as well as others) revealed in the film, is how successful the Awami League government has been in dealing with its fallout.
Though the film was seen by millions of people in Bangladesh on YouTube and Facebook, there have been no resignations and no investigations. It is difficult to see if much at all has changed as a result of the film.
For many, this comes as no surprise at all.
Bangladesh has become an authoritarian — pretty much a one-party — state. There is no parliamentary opposition, and there is a controlled and censored media (with few exceptions, they just published state responses to the film, and attacked Al Jazeera and the individuals involved in making it). Why would one expect anything different?
Moreover, the core allegations in the film swirled around the chief of army staff. This was not just corruption alleged against a political leader, but against the head of the country's army — an almost untouchable institution. Ironically, the film's focus on corruption at the top of the country's cherished institution — rather than on political figures — helped to protect the government. Though the Bangladeshi media is wary of taking on senior political leaders, it is pretty much paralysed when it comes to reporting critically on the army.
Nonetheless, the government — or more accurately the Prime Minister Sheikh Hasina — could have decided on a very different strategy. She could have decided that the publicity about General Aziz Ahmed's corruption was bringing her government into disrepute, and that the easiest way to deal with the situation was to remove him from his post. Getting rid of him would have successfully defused the potency of the film, separating her from the allegations against the army chief, as well as giving legitimacy to her supposed concerns about corruption. Hasina could well have used her response to the film to burnish her reputation in Western capitals.
Moreover, before the film was broadcast, General Aziz already angered Sheikh Hasina. In October, some recordings of his telephone conversations with his former army batch mate, the retired army officer turned government critic Shahid Uddin Khan, were released on YouTube. According to a senior Awami League insider, Aziz apologised to the prime minister about these recordings — claiming that while it was him on the phone, the conversations were doctored. The recordings were particularly embarrassing as they involved Aziz himself suggesting that the prime minister's security advisor, Tarique Siddique, was involved in enforced disappearances. At that time, according to the insider, the prime minister accepted Aziz's apologies, and he promised to focus on healing the conflicts that were emerging within the army. In this context, one could see how the film could have been the straw that broke the camel's back, and Hasina could have decided that this was the moment to remove him.
Tarique Siddique himself would also more likely than not have supported Aziz's exit. There is no love lost between these two men. Although they were once political allies, they fell out, and Siddique had at one time tried his best to prevent Aziz's promotion to the top job.
Hasina, though, is not a leader who likes to show weakness. And removing the chief of army staff would certainly have suggested that. Moreover, as Aziz only had four months more to serve before the end of his contract, this would have been another reason to wait it out. Hasina also, reportedly, relies far less on Tarique Siddique's advice than she once did.
Hasina may well have had other reasons not to take action against General Aziz. The general's loyalty towards her and the Awami League would certainly have been one. He was an important factor in her party remaining in power after two national elections, first in 2014 when as head of the Border Guard Bangladesh (BGB) he dealt with the political opposition, and then in 2018, as head of the army itself, he helped to provide a fig leaf of legitimacy to the election when he vouched for its fairness.
Hasina may also have feared the repercussions of removing Aziz. First, there is the inherent unpredictability of the army. Even though there is within the military a distinct anti-Aziz faction, there are also officers very loyal to him, and the prime minister would have been uncertain if his removal could have been a destabilising factor.
In addition, removing Aziz would also have meant that his brothers would have fallen from their perches. Aziz's brothers are no ordinary siblings. They used to be gang members, and they are allegedly still involved with the underworld. They also must hold many secrets. Hasina may have worried what actions Aziz's brothers might have taken if she was to act against their brother.
All in all, it must have seemed safer for Hasina to keep Aziz in post.
And of course, because the government could control the media and the opposition, this was an option that she could take — confirming, if there was any doubt, that the current Bangladesh government has no real interest in holding the corrupt to account.●
David Bergman (@TheDavidBergman) — a journalist based in Britain — is Editor, English of Netra News.