YouTube restores Netra News channel
Publication of a report on alleged corruption involving a Bangladeshi minister triggers false copyright claims to YouTube.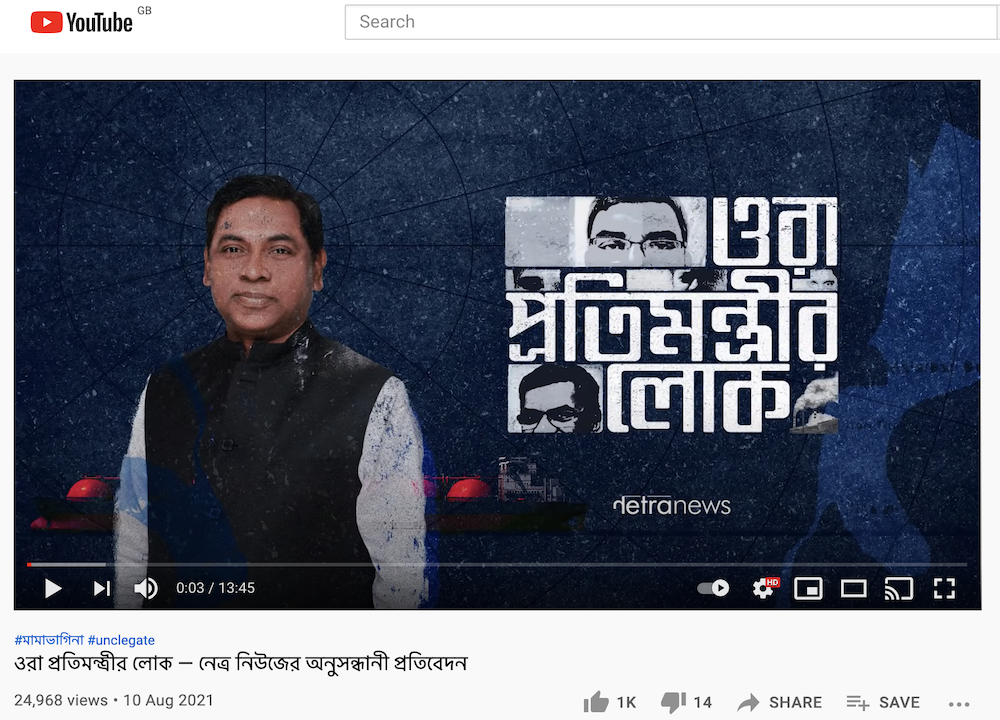 YouTube restored the Netra News channel after disabling it for less than 24 hours after the video sharing and social media platform received a series of false and malicious "takedown notices" claiming that three videos posted on the Netra News account were not produced by the news organisation but by someone else.
"We have determined that the copyright takedown request we received for these [videos] was invalid," YouTube informed Netra News, a day after the channel was disabled.
The series of false and malicious copyright claims were first sent to YouTube immediately after Netra News posted on August 10th a video on its channel — "ওরা প্রতিমন্ত্রীর লোক — নেত্র নিউজের অনুসন্ধানী প্রতিবেদন" [All the state minister's men – investigative report by Netra News] — which had accompanied its investigative story detailing alleged breaches of anti-corruption laws by Nasrul Hamid Bipu, the state minister at the Ministry of Power, Energy and Mineral Resources.
"YouTube quickly realised that these copyright claims were fake and our channel is now back on line." said Tasneem Khalil, the Editor-in-Chief of Netra News. "All the videos posted on the Netra News YouTube channel are made solely by Netra News and contain no unlicensed material beyond fair use."
In recent months, Netra News has reported on how YouTube channels and websites belonging to journalists and others who produce material critical of the Bangladesh government have been subject to similar false copyright claims — apparently made on behalf of the Bangladesh government authorities — resulting in their temporary closure.
The video about alleged corruption of the state minister was posted on August 10th and within hours Netra News received an email from YouTube which stated that "Due to a copyright takedown notice that we received, we had to take down your video from YouTube". It gave the name of the person who sent the takedown notice.
The YouTube email went onto state, "You now have 1 copyright strike. If you get multiple copyright strikes, we'll have to disable your account."
On August 12th, YouTube sent two further emails noting that it had received additional "take down" notices claiming copyright over two other Netra News videos – one titled "কোভিড-১৯: বাংলাদেশে সফল লকডাউন মৃত্যুর হার কমাবে প্রায় ৯০%" [Covid-19: Successful lockdown in Bangladesh will reduce mortality by about 90%] and the other titled: "Is this Bangladesh's most worrying Covid-19 statistic?". All three "take down" notices were made by the same person.
The third email stated: "Due to multiple copyright strikes associated with the videos below, your YouTube account has now been disabled."
Netra News was previously subjected to similar attacks which attempted to manipulate Facebook with false copyright claims.●