Key Awami League activist forced to resign international fellowship over disinformation
Tonmoy Ahmed, a key propagandist for the ruling party, resigned after refusing to issue a public apology over his disinformation campaign against Netra News.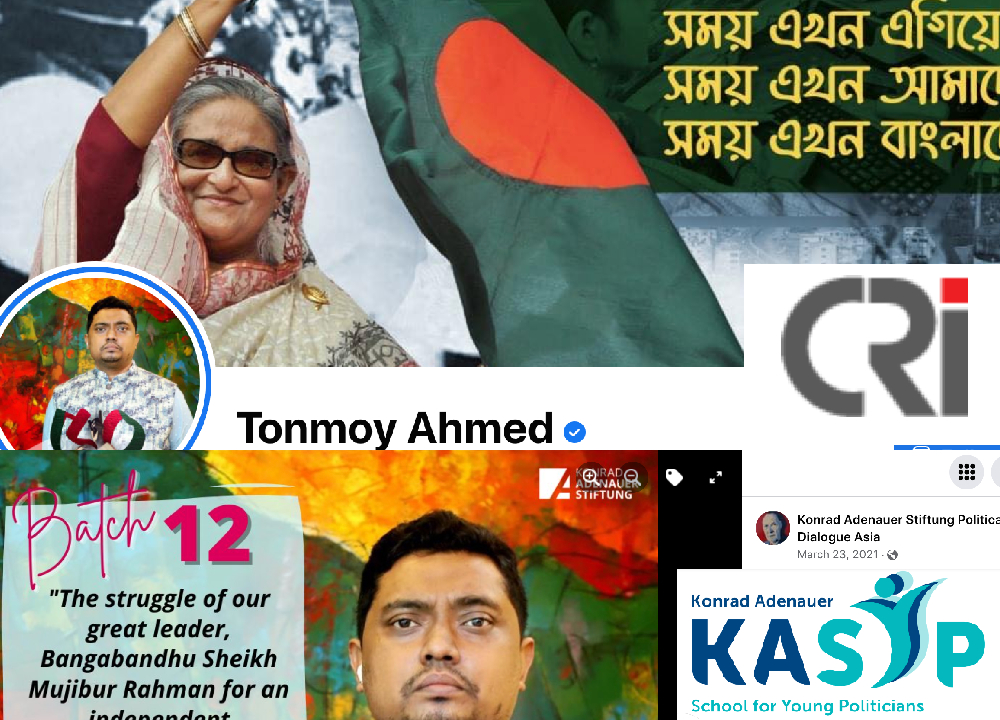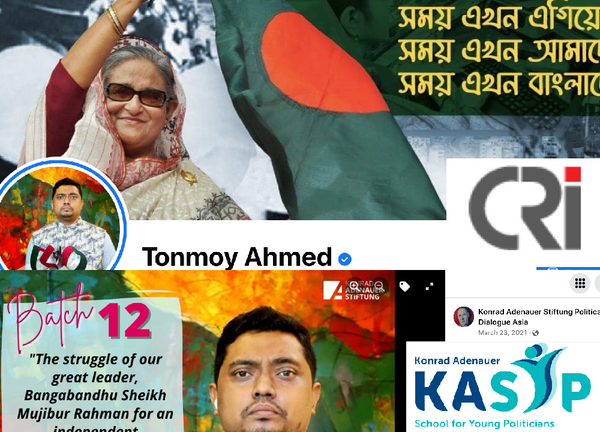 If you are the victim of a crime or misconduct undertaken at the behest, or in the interest of, Bangladesh's ruling party, it is practically impossible to obtain any accountability within the country as long as that government remains in power. This is not only true now under the current Awami League government, but was also the case under the past ones led by the Bangladesh Nationalist Party.
Very occasionally, however, mechanisms outside Bangladesh do provide some kind of accountability — even if limited. A recent example of this is the US government sanctions on the elite police force the Rapid Action Battalion and its officers. Whilst, this external response to crimes of extra judicial killings, torture and disappearances in no way matches what could be achieved by proper investigations and independent trials, for victims of RAB it must nevertheless provide at least some kind of satisfaction.
I can now report on a very much smaller — but nonetheless significant — example of accountability derived from outside the country.
In Bangladesh, fake news and disinformation comes from all parts of the political spectrum, but right now, the most common source, by far, is the websites and social media accounts set up by and operated by the intelligence and other agencies of the government, as well as party propaganda outlets of the Awami League. And if you are a journalist who writes critically of the government, you will find yourself subject to campaigns of disinformation and fake news, with websites making all kinds of defamatory allegations that are spread widely on social media by Awami League activists. And there is nothing one can do about them – as they are set up at the behest of the ruling party.
Tonmoy Ahmed, who coordinates the principal propaganda organ of the ruling Awami League party, the Centre for Research and Information (CRI), is an example of a governing party politician and activist involved in this activity.
Ahmed has, however, in recent days been forced to resign from an international fellowship after he refused to apologise for spreading "fake news and disinformation" about this publication, Netra News, and two of its editors, including me.
The Konrad Adenauer School for Young Politicians (KASYP) is a prestigious political leadership training programme which is "designed to strengthen political parties in Asia and to develop a cadre of accountable and responsible young political leaders." Ahmed, who also heads the Awami League's web team, was selected for the prestigious two-year fellowship in March 2021. "The struggle of our great leader, Bangabandhu Sheikh Mujibur Rahman for an independent Bangladesh taught me how to connect with the people," he was quoted as saying at the time.
However, a year on, Christian Echle, Director, Political Dialogue, Asia at the German-based Konrad Adenauer Foundation, told Netra News that he is no longer involved in the fellowship. "We fear that Tonmoy's actions have had an adverse effect on the democratic progress in Bangladesh by using messages that we believe are fake news, attacking the freedom of the presshis is not something that we can condone for the participation of the KASYP programme." 
"KASYP, as a political leadership training programme, expects our fellows to hold the highest standard of being responsible leaders. It supports freedom of expression as it is a crucial element of strengthening democracy. We do not tolerate practices of misinformation or disinformation," he added.
It all came to this after Ahmed, an Awami League politician and a senior staff member at the party's research wing, the CRI (whose trustees include three members of the prime minister's family), organised a blistering online campaign against Netra News editors, at times, using his verified personal pages and other Awami League-affiliated social media pages.
The organised campaign started abruptly a day after Netra News had contacted Nasrul Hamid Bipu, Bangladesh's energy minister, also a major CRI patron and trustee, asking him to respond to a story on corrupt conduct surrounding a $305 million public-private partnership deal.
In his Facebook posts targeting Netra News, Ahmed had falsely claimed that the Sweden-based news platform and two of its senior editors were involved in "spending crores [tens of millions] of dollars to spread anti-Bangladesh propaganda online" and was a "propaganda machine" with links to "Jamaat" [Jamaat-e-Islami], and was funded by "US intelligence agencies" to create the situation needed for "deposing governments of [targeted] countries".
In addition, he claimed, also falsely, that I had "served as lobbyists for war criminals at various times from 2013-14 to 2017" and been paid "$200 million" and, along with Tasneem Khalil, the editor-in-chief of Netra News, was part of "BNP-Jamaat and Pakistan's intelligence agency."
After writing a column titled "Centre for Disinformation,", I realised Ahmed was selected to be a fellow at the KASYP, and emailed the organisation seeking clarification on whether an individual involved in concerted "disinformation campaigns against independent journalists should be part of your fellowship programme."
The email went on to say that Ahmed had "posted on Facebook at least 20 posts [against Netra News editors] in the last 6 weeks which are highly defamatory and have barely a single element of truth to them."
The Konrad Adenauer Foundation considered the inquiry a formal complaint and formed an ethics committee comprising two alumni of the fellowship programme and two of its staff members. The committee asked Ahmed to corroborate his claims about Netra News, its editor-in-chief Tasneem Khalil and myself.
"After looking through all the materials sent by Tonmoy to substantiate his claims and, asking him questions, we came to the conclusion that Tonmoy had in a planned way included in his posts some untruthful, fake and questionable information, and on this basis, we decided to ask him to either make a public apology or resign, and he chose to resign, instead," Echle stated
Tonmoy Ahmed did not respond to a request for comments for this story.
The decision by the Konrad Adenauer Foundation was a brave and positive one, and the organisation should be applauded for taking this decision, especially because any form of accountability like this for such forms of disinformation and defamation is virtually impossible within Bangladesh.
The Awami League government should learn from this and stop ruthlessly attacking independent journalists and disband its fake news websites along with its teams of activists who use them to spread disinformation.●
David Bergman (@TheDavidBergman) — a journalist based in Britain — is Editor, English of Netra News. He also runs the bangladeshpolitico blog