Police shoots at activists inside BNP office, killing one and injuring dozens
Hundreds of activists arrested, including top leaders and spokesman.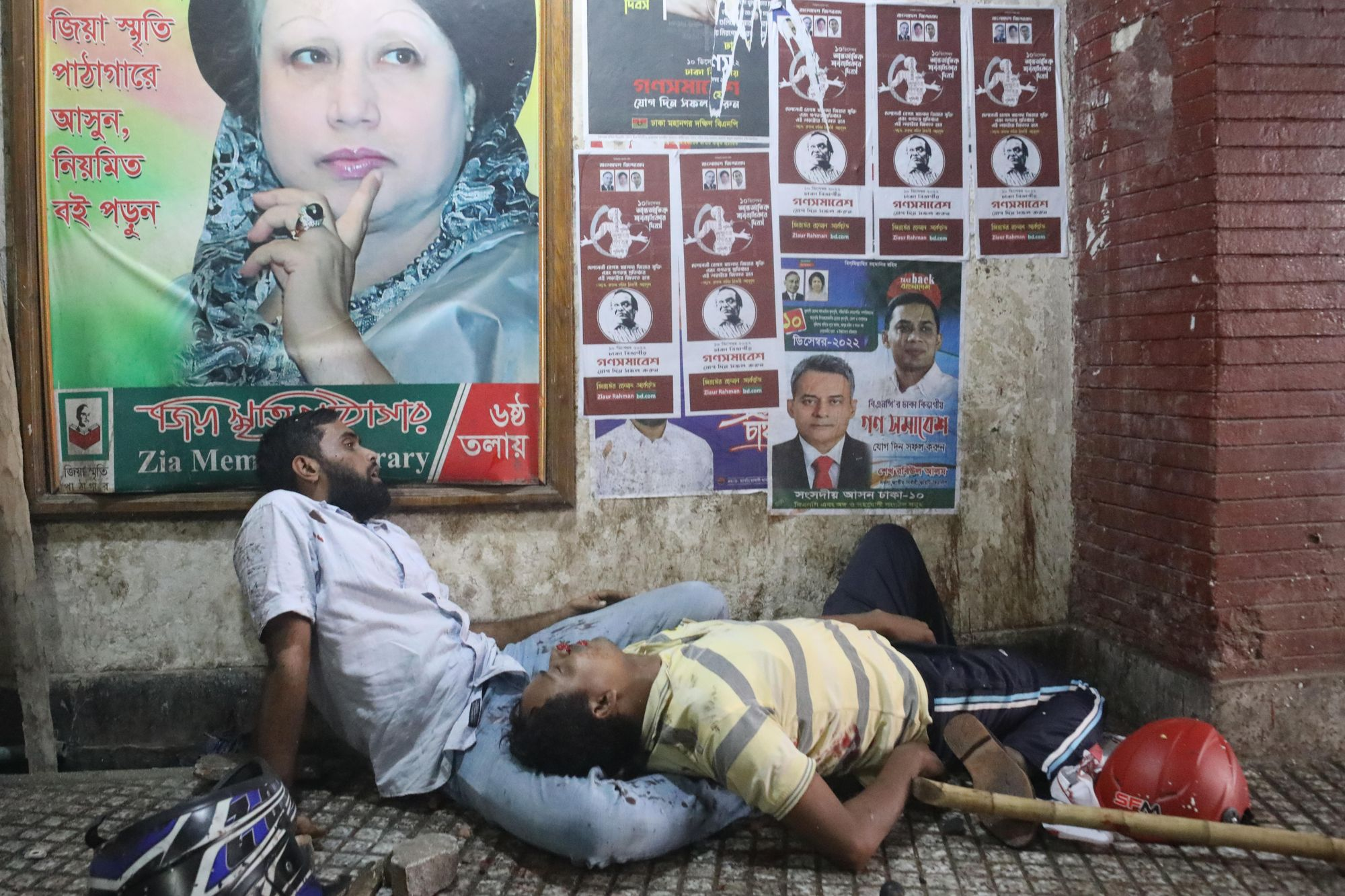 In an escalation of its campaign to thwart the Bangladesh Nationalist Party's (BNP) planned rally on December 10th, police fired shotgun rounds at activists taking refuge inside the opposition party's main office in Dhaka's Naya Paltan on December 7th, killing at least one and injuring dozens of others.

Makbul Hossain succumbed to shotgun wounds after police prevented BNP activists from taking him to the hospital, according to a Netra News reporter present at the scene. We also obtained photos of the deceased activist's dead body that showed visible injuries consistent with shotgun wounds resulting from the close-range shooting.

"Makbul was standing just next to me," recalled a bloodied Robin Khan, a member of BNP's youth wing, from a hospital bed in Dhaka. "We were trying to close the gates [of the office], and before we could do so, the police were outside the gates."

"At close range, police fired rounds aiming at us. Makbul immediately fell down, unconscious. My entire body got dizzied — I could not understand anything and just noticed that my whole body was covered in blood. Soon after, I became unconscious, too."

Shotgun rounds can help disperse a crowd if deployed from a long range, but they can be lethal from close proximity.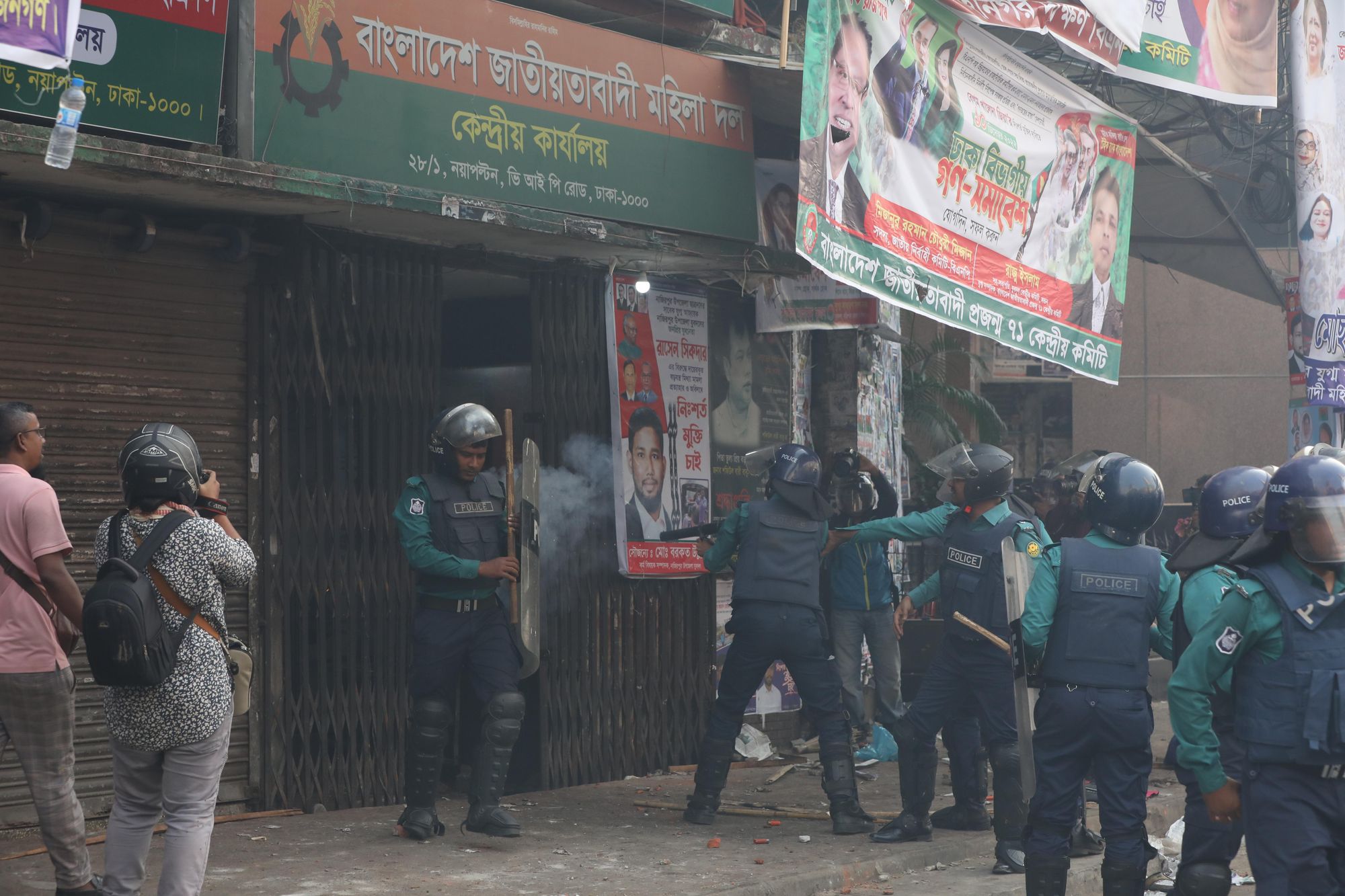 BNP has been holding rallies in other big cities across the country, gearing up for the Dhaka rally, and police excesses have killed scores of BNP activists. In recent days, in separate statements, foreign missions and the Office of the United Nations Resident Coordinator in Bangladesh have highlighted the importance of the right to peaceful assembly.

In the aftermath of the shooting, police entered the BNP headquarters and arrested hundreds of opposition leaders and activists.

Although security forces historically used a heavy-handed approach in dealing with opposition supporters and activists in Bangladesh, they usually hesitate to enter the main offices of opposition parties, making them relatively safer spaces for party activists. But the death of Makbul Hossain and subsequent arrests from inside the BNP headquarters suggest police are now not reluctant to break the norm.

Ahead of BNP's planned grand rally in Dhaka coinciding the Human Rights Day, police launched a citywide "special campaign," ostensibly targeting criminals, militants, and drug dealers. But police officials privately acknowledged to journalists that the drive was primarily aimed at opposition party activists.

The Bangladesh government maintains it will not allow the BNP to hold the rally in Naya Paltan in Dhaka, arguing that it would disrupt traffic across the city. The government proposed an alternative venue, Suhrawardy Udyan, but BNP vowed to hold the rally in front of its Naya Paltan office, where the party wants to draw hundreds of thousands of supporters from across the country.

Amid heated rhetoric from both sides, the BNP backtracked and asked the government to offer another venue, to no avail.

Despite BNP's softened posture, heavy police presence across Naya Paltan did not wane, with elite SWAT units specialised in conducting commando raids and armed with military-grade weapons patrolling outside the party office.

"Peaceful rally"

A top BNP leader, Shahiduddin Chowdhury Annie, told the AFP news agency that around 5,000 opposition supporters had peacefully gathered outside the party office, "We allowed traffic to move. But police suddenly attacked us, firing at our activists and supporters. At least 100 people were injured."

A police spokesman told AFP that the police were forced to respond because BNP activists had "attacked law enforcement officers with rocks and Molotov cocktails."

"We fired rubber bullets and tear gas to evacuate the people from the road," claimed the police officer.

Annie, the leader who spoke to AFP, was later reportedly arrested from inside the office.

Among those arrested also include the party's longtime spokesperson, Ruhul Kabir Rizvi, and leaders of its youth wing. They join over 1,400 others who the party says had been detained leading up to the proposed Dhaka rally.

The party's verified Facebook page live-streamed the incident's aftermath, where injured party activists were seen lying on the floor.

Police reportedly claimed to have seized 160 packets of rice and several explosives from the BNP office, but BNP secretary general, Mirza Fakhrul Islam Alamgir, alleged the explosives had been planted by the police to stage a false recovery.
The government is, however, seeking to claim that this discovery of the explosives showed that the "BNP had no intention of peaceful assembly on 10 December, but rather planned on violence as a means of intimidating the government."●