Twitter correspondence with users reveals Bangladesh government attempts to remove tweets
Social media continues to be key terrain of Bangladesh government's attempts to silence alternative views.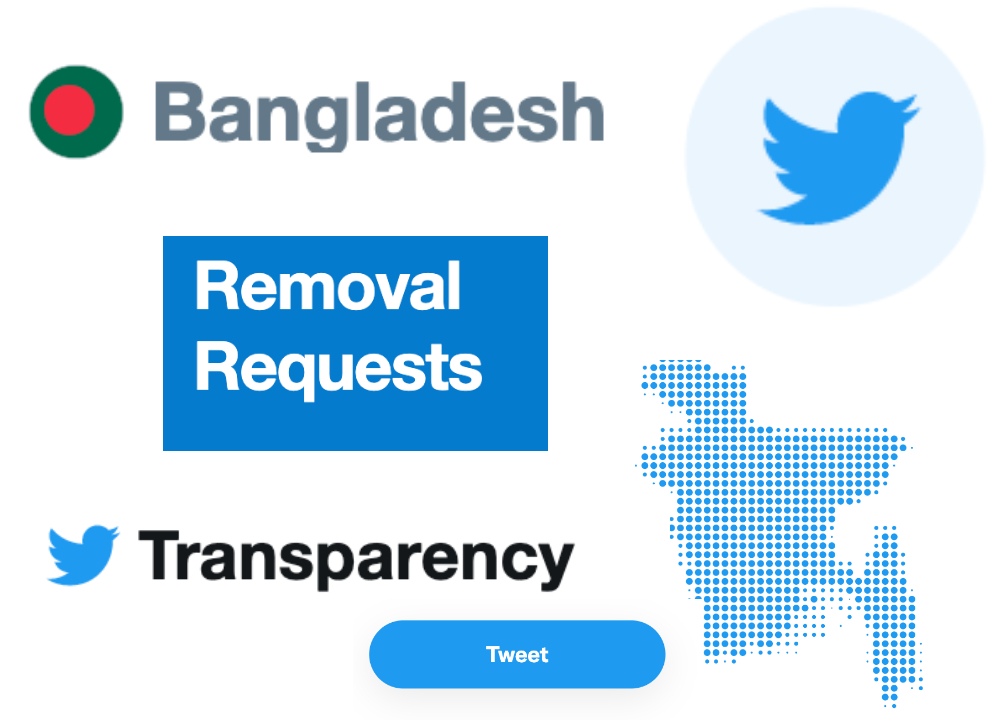 In Bangladesh, Facebook is by far the most popular social media platform used by millions of people daily, so it may come as a surprise that the Bangladeshi authorities — in their continuous attempts to remove embarrassing or critical commentary from social media, much reported on by Netra News — have begun to take an interest in Twitter, which has a relatively marginal presence in the country.
Between July to December 2021, Twitter's own data shows that the Bangladesh government had not sent a single request to the social media platform to remove material. By way of comparison,  in the same six month period, Twitter had received, 3,969 demands from the Indian authorities.
What is particularly interesting about Twitter is that unlike other social media companies, when a government requests the removal of content from its platform, Twitter has a policy of first informing the person about it (before acting on the request) along with naming the government body involved.
This is an important form of transparency which gives insight into what kinds of content Bangladeshi authorities are trying to get social media companies to remove outside the public gaze. In comparison, we have no idea at all about what content the government requests Facebook to remove — or, whether the social media company removes it.
Having Twitter provide this insight is all the more significant as Netra News has recently reported on proposed government legislation that, if enacted, sets up a process where both individuals and social media companies will be required  by law to remove content if it is alleged to fall within certain very broad categories.
In the last few weeks, two journalists have reported that Bangladeshi authorities have requested Twitter to remove some of their Tweets.
The first is Zulkarnain Saer Khan. For many years a businessman in Hungary, Saer became whistle-blower to assist Al Jazeera to uncover corruption at the centre of the Bangladesh state in its award winning documentary, All the Prime Minister's Men. He now works as a journalist for Al Jazeera (as well as being an occasional contributor to Netra News) and posts regularly on social media.
On November 15th, he received an email which stated:  "In the interest of transparency, we are writing to inform you that Twitter has received a request from Bangladeshi Law Enforcement regarding your Twitter account, @ZulkarnainSaer, that claims the following content violates law(s) of Bangladesh."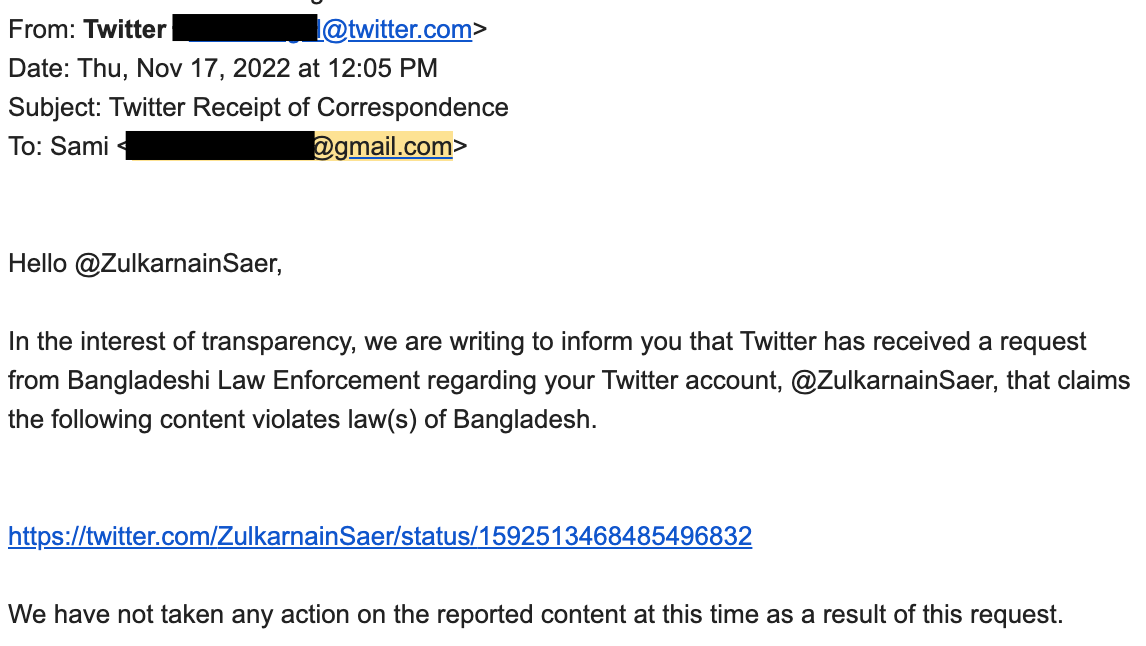 The particular tweet was, ironically, complaining about how "government agents of Bangladesh" were making malicious reports to Facebook that were successfully resulting in his social media account being taken down. He wrote: "Restriction history my @meta profile would help to understand the reprisal journalists face by government agents of Bangladesh as they maliciously report contents critical to regime and succeeds to restrict publishing rights till @fbsecurity intervene." He then posted a list of restrictions imposed by Facebook on his account.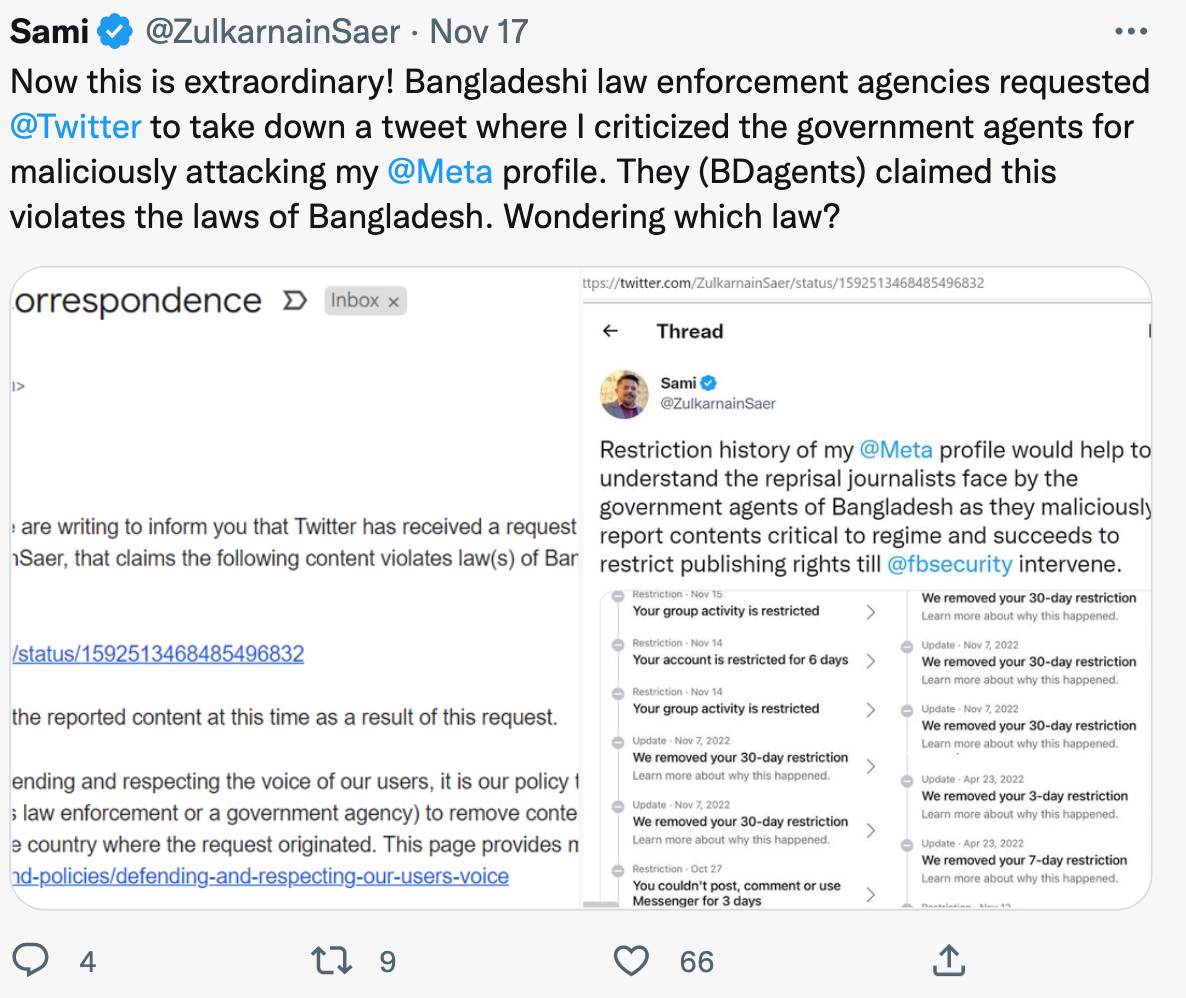 In its email to Saer, Twitter states: "We have not taken any action on the reported content at this time as a result of this request" and goes onto explain why it has emailed him: "As Twitter strongly believes in defending and respecting the voice of our users, it is our policy to notify our users if we receive a legal request from an authorized entity (such as law enforcement or a government agency) to remove content from their account."
On November 28th, Saer received another similarly worded email from Twitter informing him that this time it has received "a request from Bangladesh Telecommunication Regulatory Commission" to remove a tweet.
This tweet was perhaps more contentious than the previous one as it claimed that a man called, Shahin, who had been killed in a "cross fire" by Rapid Action Battalion was not a drug peddler as claimed by the authorities but was in fact a ruling party activist and close aide to an Awami League member of parliament. It also claimed that Shahin was allegedly involved in the killing of a university student Fardin Noor.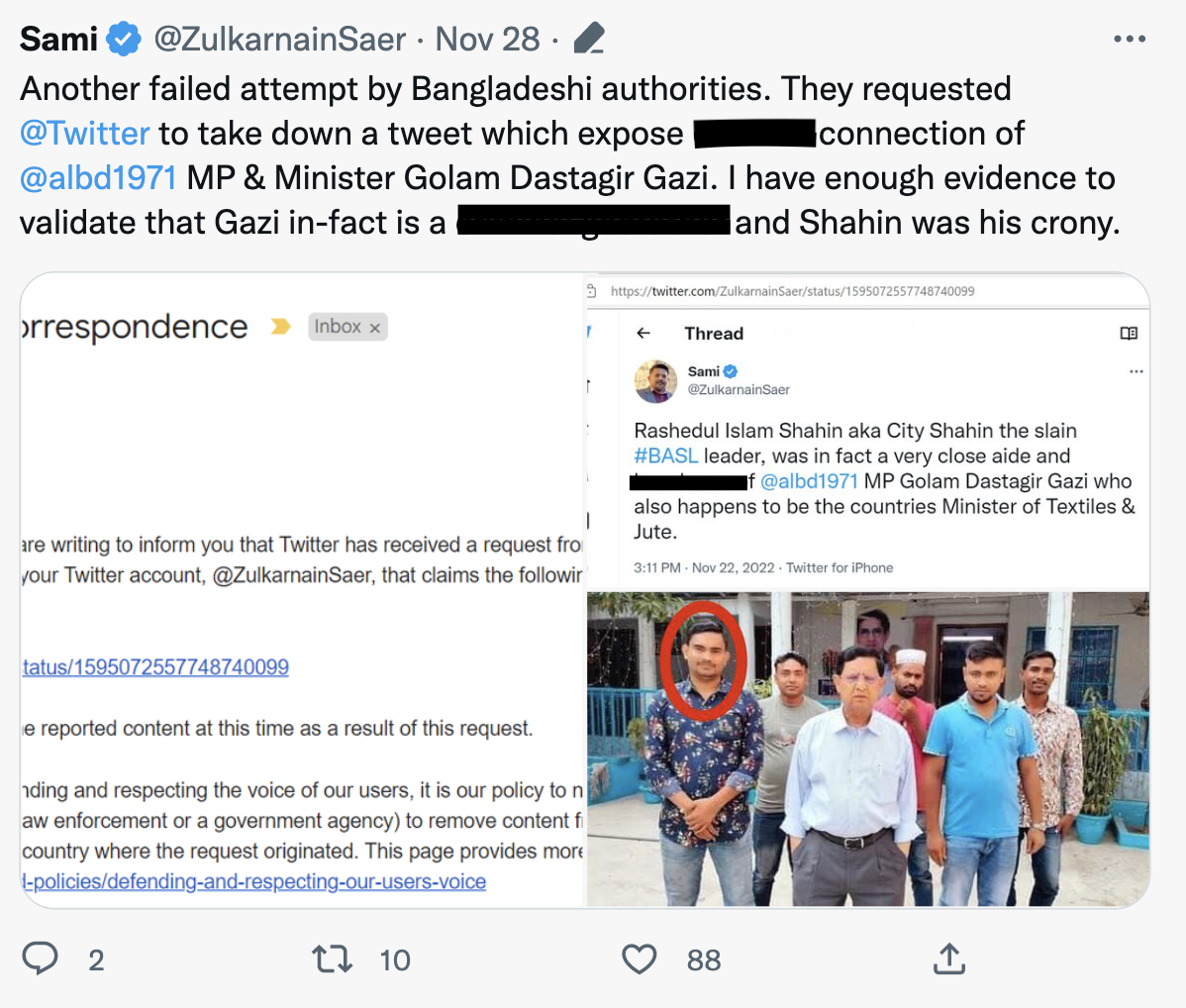 Twitter had not taken that tweet down at the time of publication.
The second journalist whose tweets have been subject to government takedown requests is Muktadir Rashid, a senior journalist working at The New Age.
Twitter sent four emails stating that Bangladesh Telecommunication Regulatory Commission had claimed that four Tweets should be removed. Three of them remain visible at the time of publication, and they are all very innocuous.
Two were posted on November 22nd and the other on November 27th. One spoke positively about political cartoons and how New Age's cartoonist was "promoting democracy" through his work and showed a picture of a cartoon about the country's energy minister.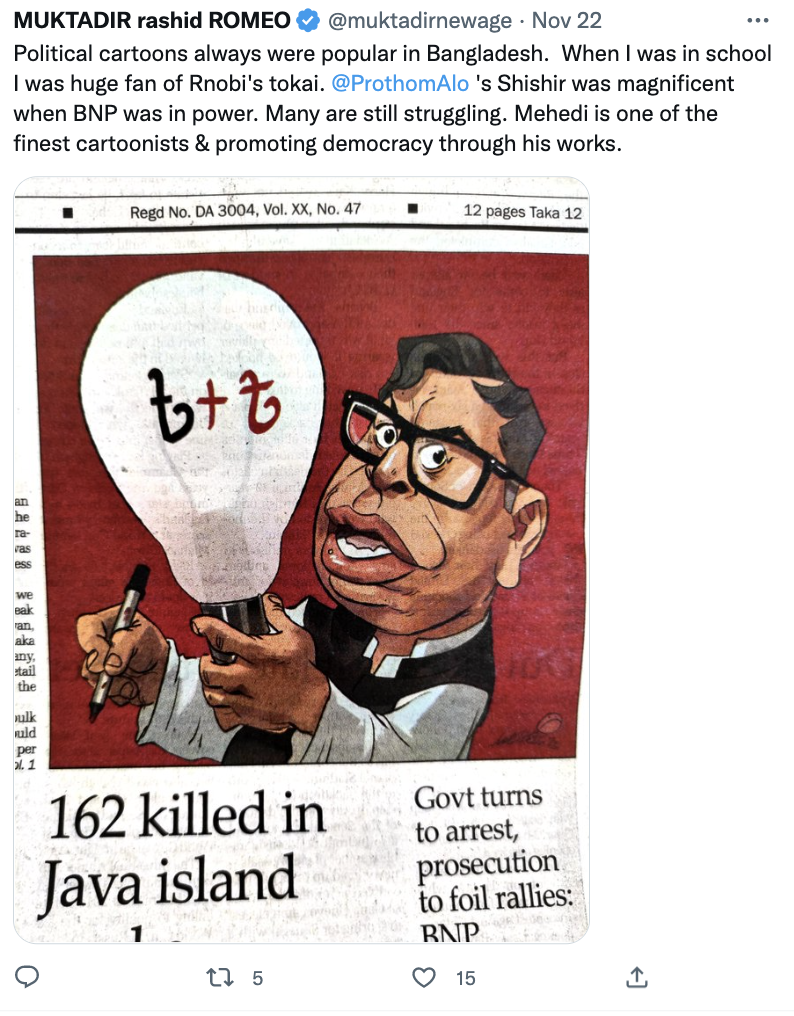 Another  seemed to query an India Today article which was highly critical of the opposition Bangladesh Nationalist Party.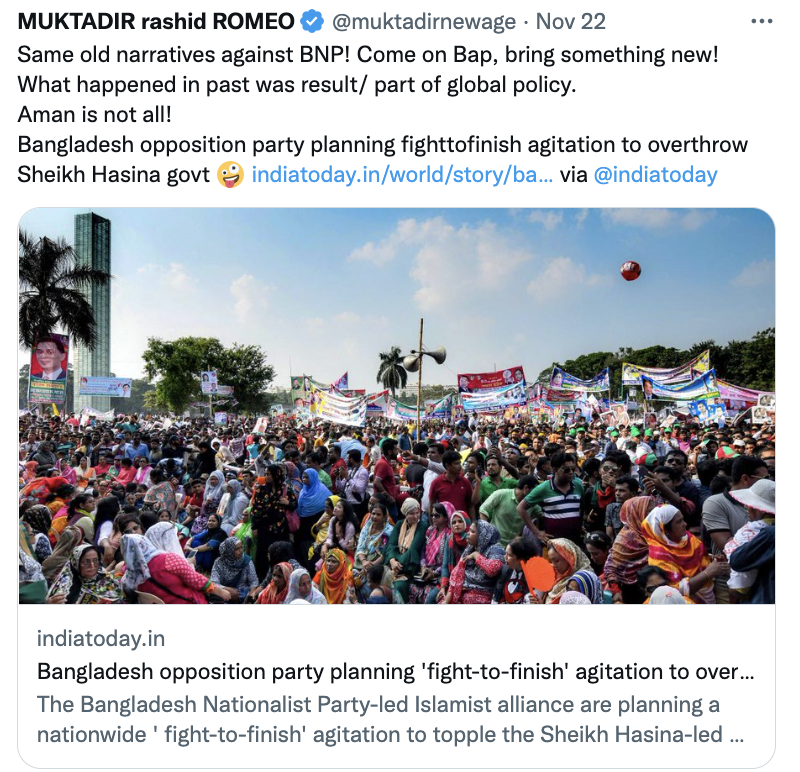 And the  third tweet referenced how Bangladesh's foreign minister Momen was trying to stop foreign diplomats from speaking to the media.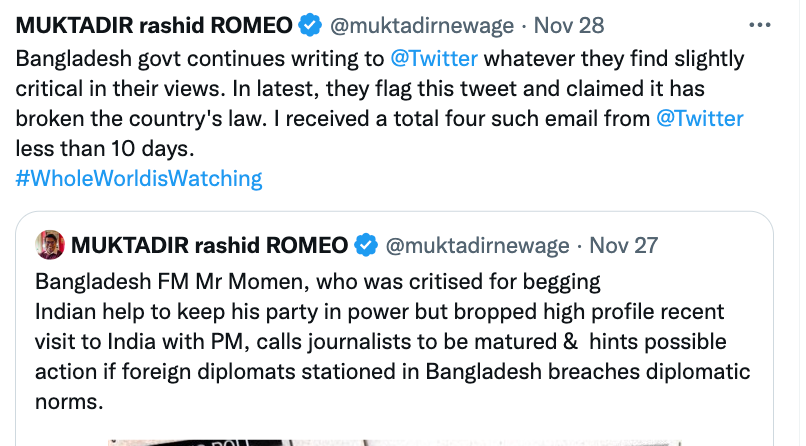 It is unclear how the Bangladesh government could justify attempting to remove any single one of these tweets.
But at least we know this is what the government would like social social media companies to remove.●