UK Labour party leader silent on whether he raised human rights with Bangladesh prime minister at meeting
The head of UK's main opposition party seems to have breached party's own commitment to "advocate for human rights at every bilateral diplomatic meeting".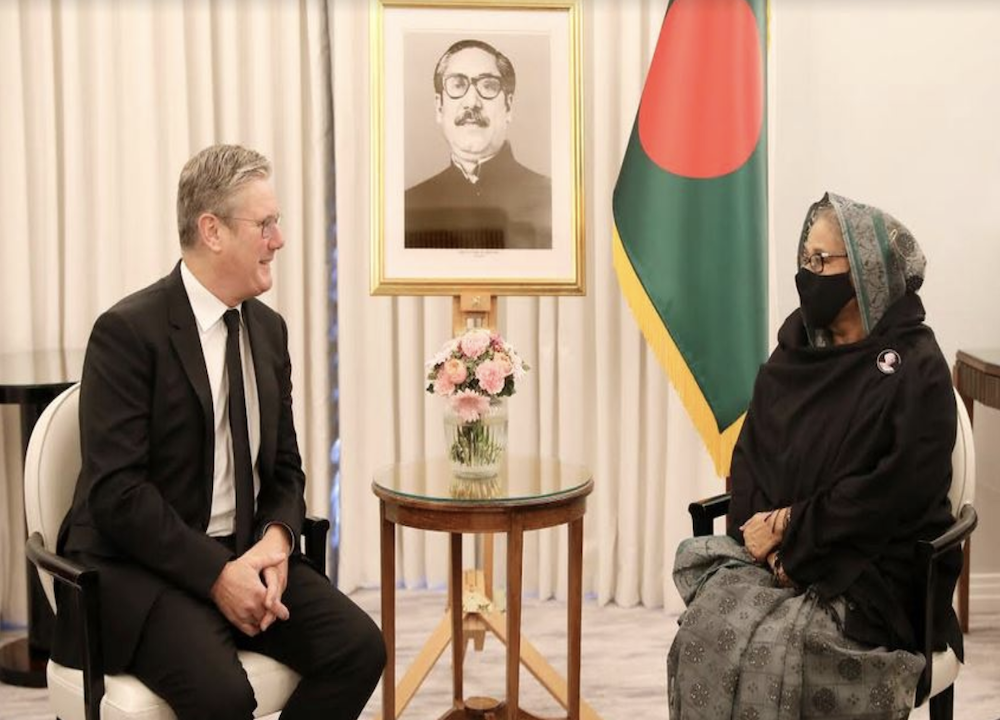 On September 17th, the Saturday before Queen Elizabeth II's funeral, the head of UK's Labour party, Keir Starmer, had a meeting with Sheikh Hasina, Bangladesh's prime minister, at Claridges hotel where she was staying in London.
Even before the queen died, Hasina had planned to stop in London at around this time on her way to the United Nations General Assembly, and the meeting with Starmer had, it appears, been organised in advance.
There is of course nothing, in itself, contentious with the head of the UK's main opposition political party meeting up with the prime minister of Bangladesh, a country widely seen as a "friend of the UK".
However, a section of the labour party's 2019 manifesto titled, A New Internationalism, states that "human rights and international humanitarian law are fundamental pillars of a secure global system," and it commits the party to "advocate for human rights at every bilateral diplomatic meeting". (emphasis added)

So one would expect that Keir Starmer, who also used to be a human rights lawyer, would raise with Sheikh Hasina the widely held concerns about her government's very poor human rights record including its clampdown on free speech, arbitrary detentions, extrajudicial killings and enforced disappearances, as well as, in light of its systematic rigging of 2018 national elections, the need for free and fair elections in 2023-24.
On the day before the meeting was due to take place, Labour's press office could not confirm whether the meeting was happening. However, a press officer told Netra News that if the leaders were to meet, Starmer "was very strong on raising human rights issues at meetings like this".
The two leaders did in fact meet, and reports in the Bangladeshi media, suggested that Starmer did not raise any concerns about human rights. Since these media articles were written by BSS, the Bangladesh government's news agency, Netra News went back to the Labour Party and asked them this question:
"At the meeting, did [Starmer] raise issues relating to human rights and democracy, and if so can you provide details of what particular issues he raised?"
Nine days after the initial request — and following numerous email and phone reminders — the Labour Party finally responded, with a statement directly from Keir Starmer, which is silent on whether he raised the issue of human rights or democracy at the meeting, strongly suggesting that he didn't:
"It was a pleasure to meet Prime Minister Sheikh Hasina MP again during her visit to London alongside other world leaders to pay her respects to the Late Queen. We discussed many topics including Bangladesh's partnership and cooperation with the UK in a range of areas from trade to climate action. Under a Labour government, we will continue to strengthen our ties with international allies like Bangladesh."
If he did raise human rights, when asked such a direct question, why would he not say that he had done so? One has to ask, if Keir Starmer can avoid as opposition leader "advocating for human rights" when he meets the Bangladesh prime minister, how likely would he do so were he to become prime minister?
In addition, the apparent failure to "advocate for human rights" at the Hasina meeting was in stark contrast to how the BBC handled its interview with the Bangladeshi prime minister broadcast on the following day where Laura Kuenssberg asked direct questions about the issue of human rights, enforced disappearances and democratic elections.
Starmer's decision not to raise human rights at the meeting with Sheikh Hasina is also notable in the context of the singular mention of "human rights" in his subsequent speech at this week's labour party conference where he said:
"As a human rights lawyer, I took on governments who wanted to keep the barbaric practice of death by hanging."
The Bangladesh government does continue to use the "barbaric practice" - his word - of hanging. So even if Starmer did not want to talk about democratic elections, freedom of expression, enforced disappearances and extrajudicial killings with Sheikh Hasina, one might just have expected that he would at least have mentioned an issue about which, in the past, he boasts, he "took on governments".
But no, he did not.
So why did Starmer not raise the issue of human rights with the  Bangladeshi prime minister. It is not as though he meets her often and will have another opportunity soon to raise these concerns with her.
Many will wonder whether the reason for his inaction  is linked to Starmer's close political relationship with Tulip Siddiq MP, a member of parliament in Starmer's neighbouring constituency, who he appointed as a shadow economic minister.
Tulip Siddiq is the niece of Sheikh Hasina. Siddiq does not just have a family connection with the prime minister but before she became an MP, she acted as a spokesperson for her aunt's party, the Awami League. Siddiq has herself been criticised for her failure to raise issues of enforced disappearances in Bangladesh in recent years, even when families have contacted her.  Moreover, the UK wing of the Awami League, whose leaders are appointed by Sheikh Hasina, plays a huge role in her UK national election campaigning. Arguably Starmer, in promoting her as a minister, has actively turned a blind eye to her relationship with Bangladesh's ruling party.
Of course, it could also be that Starmer is simply very ill-informed about contemporary Bangladesh, but that is no excuse for the leader of the country's main opposition party, with a pedigree in human rights,  and increasingly a prime minister-in-waiting●