US sanctions: Five things to watch
It is too early to say what the implications of the US sanctions are, but here are five possible impacts.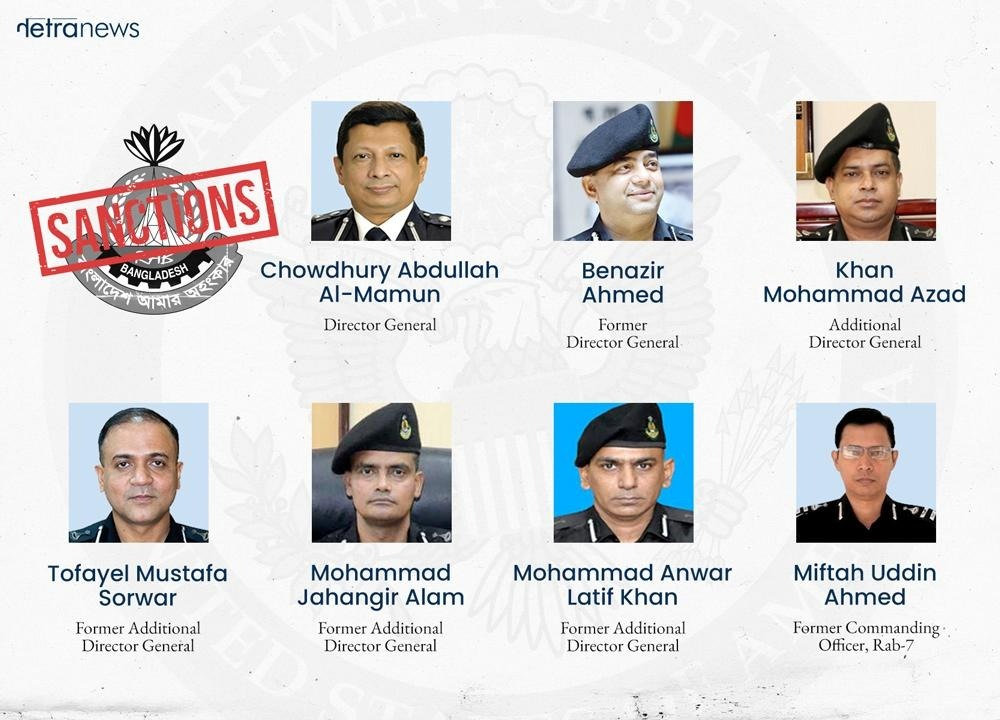 In an unprecedented move, on December 10th 2021 the United States imposed sanctions on Bangladesh's Rapid Action Battalion (RAB) and seven security officials including the current head of the country's police. It is difficult to gauge the eventual fallout from the dramatic decision by US President Joe Biden's administration, but the spillover effect of the sanctions may serve as an effective deterrence against Prime Minister Sheikh Hasina's increasingly authoritarian one-party rule. Here are five possible implications of the sanctions on the country's political and security establishments.
A new United States perspective
Above all, the sanctions are approved from the highest level of the US government. Thus, they carry the serious weight of an official rebuke — one that puts, from the perspective of Washington, certain elements of Bangladesh's polity on a par with the likes of Russia, Belarus or Cambodia. And, it is barely a secret that governments of Russia or Belarus are no friends of the US. These sanctions will serve as the basis on which Bangladesh will be viewed by US policymakers.
Democratic reform
After years of leap service, the US has finally sent its strongest message yet that it wants to see credible democratic reform in Bangladesh. The Hasina government has managed to suppress democratic politics through rampant human rights violations — from indiscriminate shootings, extrajudical executions, enforced disappearances, torture to imprisonments. Security forces have been at the forefront of that repression. No local pressure has been enough to rein in the grinder of repression. But the sanctions send a clear message that it wants the democratic backsliding to be stopped, if not reversed.
An unwritten contract torn to pieces
These sanctions will weaken and disrupt the unwritten contract between the Awami League and the country's security apparatus. The psychological impact of US sanctions will run deep in the minds of many mid-level to senior security officials who were educated in the West, well-versed in global affairs, and would certainly not want to jeopardise their future plans or connections.
The fact that other Western capitals often ally with Washington in matters related to sanctions will only create a more serious sense of urgency. It is worth remembering that US officials vowed to pressure its allies to follow suit on its sanctions, according to a recent Wall Street Journal article.
This also means there will be cracks within the security apparatus which maintains a chain of secret prisons and kills people to preserve Hasina's grip on power. Such a crack is a problematic factor for the government that does not source its legitimacy from people but thrives in a culture of fear.
Breathing space for the opposition
The sanction has opened up some space for the Bangladeshi opposition, which has been struggling to keep afloat for a long time.
One of the major reasons why opposition parties have been unable to mount an effective challenge to the government's rule is the kinetic approach employed by security forces in dealing with opposition activists. Innumerable number of opposition activists have been killed, maimed, abducted, disappeared or imprisoned over the last few years. But these sanctions will create a sense of accountability for security officials, which would mean that they may well tread more carefully before killing or abducting the next opposition leader.
End of comfortable retirement for some
By imposing sanctions against these officials, the US has disrupted their luxury retirement plans.
In exchange for helping the Awami League to remain in power, security officials were allowed to gain wealth and illicit money. Many of them, not least General Aziz Ahmed, the former army chief, are understood to have smuggled their illicit wealth to Western countries to purchase properties or secure a lucrative future for their family. However, the US sanctions would mean that there is no escape from the very police state they helped build.●