UN rapporteurs claim prime minister's son was part of government's "smear campaign" concerning enforced disappearances
Bangladeshi state agencies also accused of "heinous" harassment by distorting images of female relatives of the disappeared and claiming them to be "prostitutes".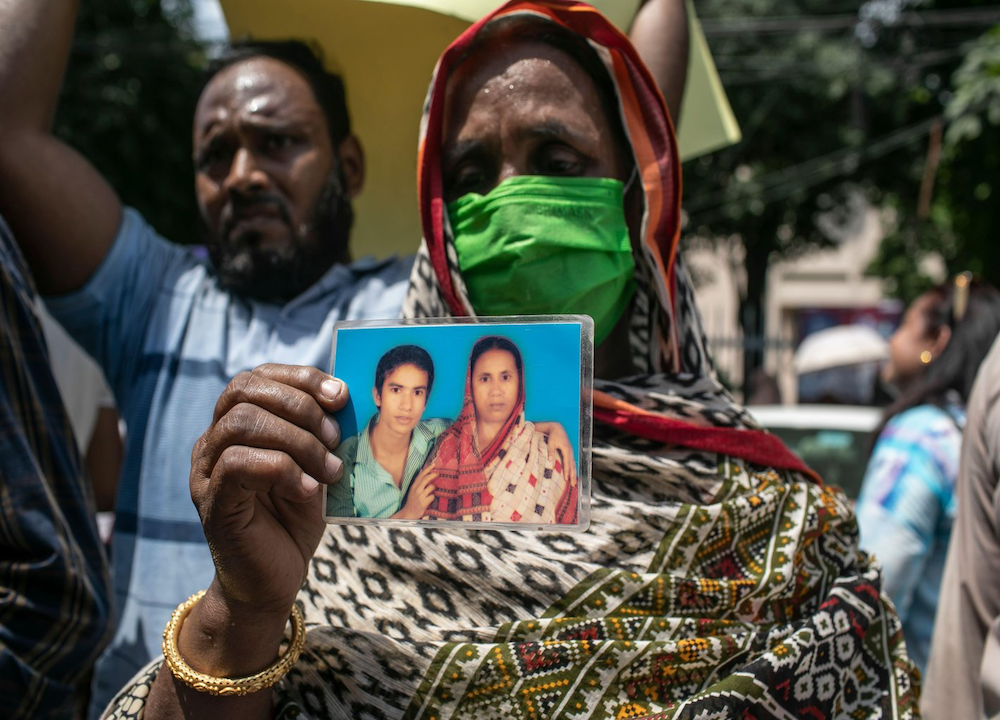 Three UN rapporteurs on human rights have ripped into the Bangladesh government, accusing it of involvement in a "smear campaign" against a UN body and "acts of intimidation and harassment" targeting various organisations and individuals working on the issue of enforced disappearances in the country.
In a letter sent to Bangladesh's ambassador in Geneva, the rapporteurs say that the smear campaign, which was "supported by high profile ministers and government officials," and has used "inaccurate and misleading" information to try and discredit the UN Working Group on Enforced or Involuntary Disappearances (WGEID) and "the authenticity of the claims brought to it by relatives of the victims and civil society organizations."
The letter, dated December 22nd 2022, was signed by Aua Baldé, Chair-Rapporteur of the Working Group on Enforced or Involuntary Disappearances; Clement Nyaletsossi Voule, Special Rapporteur on the rights to freedom of peaceful assembly and of association; and, Mary Lawlor, Special Rapporteur on the situation of human rights defenders.
They specifically point their fingers at Prime Minister Sheikh Hasina's son Sajeeb Ahmed Wazed, who they say "used his verified Facebook account to challenge the credibility and integrity" of the WGEID.
As further evidence of government complicity in the smear campaign, the officials point out that on December 11th 2022, during the government's Human Rights Day celebration, "all participating diplomats were handed a package which included a paper written by a professor at the Canadian University of Bangladesh, questioning the work of the WGEID and the authenticity of its claims."
The UN rights officials also allege that there have been acts of "intimidation and harassment" by law-enforcement and intelligence agencies against those working at the human rights organisation Odhikar and members of the Maayer Daak (Mothers' Call) activist group, which comprise relatives of the disappeared.
As an example of this harassment and intimidation, the letter notes that "unidentified people, hired by government's law-enforcement agencies and intelligence units, have collected photos of female relatives of victims of enforced disappearances, photoshopping and publicising them in social media platforms to portray them as 'prostitutes'."
It describes these actions as "an unacceptable attack against the honour and reputation of these mothers and wives, that humiliate them and have a particularly heinous nature."
For a number of years, human rights organisations and journalists have accused law enforcement authorities under the current Awami League government, which has been in power since 2009, of picking up men, particularly those who are seen as political threats, and secretly detaining them for various periods of time. The Bangladeshi human rights organisation Odhikar has collected data showing that there have been well over 600 such disappearances since 2010. Although most of the men are subsequently released or formally arrested and sent to jail, dozens were killed or their whereabouts remain unknown .
In 2021, Human Rights Watch released a detailed online database of 86 men who were picked up by law enforcement authorities and whose whereabouts remain unknown. The government has constantly denied any involvement in these or any disappearances, and the allegations had little political consequences until December 2021, when the US government imposed sanctions on Bangladesh's elite police force Rapid Action Battalion and a number of its officers.
At the end of 2022, pro-government media and journalists started to criticise the UN Working Group on Enforced Disappearances or Involuntary Disappearances.
This started in October 2022, when the Indian publication, India Today, published an article titled "'Travesty of justice': Experts criticise errors in UN report on forced disappearances in Bangladesh", which criticised a list of disappeared men sent by the UN WGEID to the Bangladesh government,  called it as "replete with inaccuracies" and "shoddy", and containing "fake cases". This article was widely reported in Bangladesh media.
In their letter, the UN rapporteurs say that these criticisms were "misleading" as there was no "UN report on forced disappearances in Bangladesh", that it had not "published any list of individuals, due to the confidential nature" of its procedures, and that "Governments and sources of cases may, at any time, provide clarifications or corrections which the WGEID analyses carefully".
The letter also details the alleged harassment of Odhikar's secretary, Adilur Rahman Khan, who was stopped at the airport by Bangladesh immigration authorities a number of times. It also referred to a meeting held by the US ambassador at the house of Sanjida Islam Tulee, the coordinator of Maayer Daak, when dozens of Awami League supporters gathered outside her house, blocking the road, shouting slogans and making it difficult for the ambassador's car to reach the residence.
The letter concludes by stating, "[W]e reiterate our concerns in relation to what appears to be an emerging pattern of intimidation and harassment against relatives of disappeared persons, human rights defenders and civil society organizations working to clarify the fate and whereabouts of disappeared individuals. This could indeed compromise the search and related efforts to seek truth and justice for the alleged enforced disappearance of individuals, as well as reparation for the harm suffered."
In February 2022, ten months earlier, a wider group of UN special rapporteurs and chairs of UN working groups had written to the government raising similar concerns about state bodies' intimidation and harassment of civil society organisations working on Bangladesh's disappeared.
Netra News has also recently reported that at around the same time as the December 2022 letter was sent, other UN rapporteurs wrote to the government concerning the Bangladesh government's use of force against opposition activists trying to enforce their rights of lawful assembly. This letter has now been made public.●